DPP calls KMT's Lugang election loss a 'warning'
The Democratic Progressive Party's (DPP) Huang Chen-yen (黃振彥) clinched a landslide victory in Changhua County's Lugang Township (鹿港) mayoral by-election yesterday, leading his Chinese Nationalist Party (KMT) rival Tsai Ming-chung (蔡明忠) by 13,227 votes.
The official tallies from the Changhua County Election Commission showed Huang, an incumbent county councilor, received 71 percent, or 22,275, of the votes, while Tsai obtained 9,048, or about 28 percent of the vote.
Voter turnout was 48.93 percent, with 31,323 valid votes cast out of the 64,606 eligible voters in a process that ran smoothly, Lugang Township Office chief secretary Kung Ping-chieh (孔秉杰) said.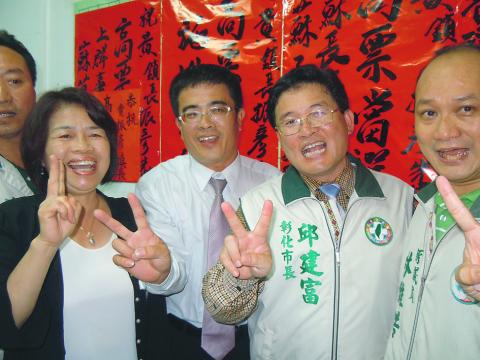 Huang Chen-yen of the Democratic Progressive Party, second left, and supporters celebrate after Huang won election in Changhua County's Lugang Township in yesterday's township chief by-election in a landslide victory.
Photo: Chang Tsung-chiu, Taipei Times
The DPP called the election an opportunity for voters to voice their discontent over price hikes, which they described as an "ambush" on the public after the presidential election and a policy that could trigger general price increases and make people suffer.
Commenting on the electoral result, DPP acting chairperson Chen Chu (陳菊) said: "It is a victory for Lugang and a vote of dissatisfaction with President Ma Ying-jeou (馬英九)."
Since January, the Ma administration has adopted various controversial policies, such as the plan to relax the ban on imports of US beef containing residues of leanness--enhancing drugs, alleged cover-up of bird flu incidents, raising of fuel and electricity prices and touting a "one country, two areas (一國兩區)" concept on cross-strait relations.
"Yesterday's electoral result is a warning to the Ma government that people are against those bad policies and that the government has to change those policies for the people," Chen added.
Chen expressed the party's gratitude to Lugang residents for giving the DPP a chance to govern the township, adding that Huang would make great efforts in his office.
The KMT acknowledged the defeat in the by-election, but brushed aside the DPP's description of its victory as a vote against Ma while defending the government's policies.
"The KMT humbly accepts the by-election result. We will continue to reflect upon our performances and keep working on party and government reforms," said -Chuang Po-chun (莊伯仲), director of the KMT's Culture and Communications Committee.
Chuang acknowledged that recent price hikes of fuel and electricity attracted public complaints and affected the by-election result, but added that the Ma administration presented the policies to reflect market prices as a responsible government.
He accused the DPP of spreading vote-buying rumors against Tsai during the election campaign, and said Tsai has run a clean campaign.
"The KMT has appealed to local voters with a solid policy platform on local developments and we regret that the DPP executed a smear campaign again," he added.
Tsai announced his defeat about 40 minutes after voting ended at 4pm. He cited a lack of effort during the campaign, but denied that he lost the by-election due to public grievances against the Ma administration over recent policies
"I lost the by-election because I did not make enough of an effort during the campaign, and because personally I may not be a suitable politician. There are no other reasons," he said at his campaign headquarters.
Comments will be moderated. Keep comments relevant to the article. Remarks containing abusive and obscene language, personal attacks of any kind or promotion will be removed and the user banned. Final decision will be at the discretion of the Taipei Times.