DPP seeks probe of Ma over bird flu
CONCEALMENT? The Special Investigation Division was yesterday asked to investigate President Ma Ying-jeou for malfeasance in the matter of alleged cover-ups of bird flu
The Democratic Progressive Party (DPP) legislative caucus yesterday filed a request with the Supreme Prosecutors' Office Special Investigation Division to investigate malfeasance involving high-ranking officials, including the president, in the case of the alleged concealment of a bird-flu outbreak.
DPP Legislator Chen Ting-fei (陳亭妃) told a press conference that her caucus filed the request against President Ma Ying-jeou (馬英九), vice president-elect Wu Den-yih (吳敦義) and former Council of Agriculture (COA) minister Chen Wu-hsiung (陳武雄).
The COA has been accused of covering up information about several H5N2 bird-flu outbreaks in the past two years — the latest case in December last year — and filing false notifications to the World Organisation for Animal Health (OIE).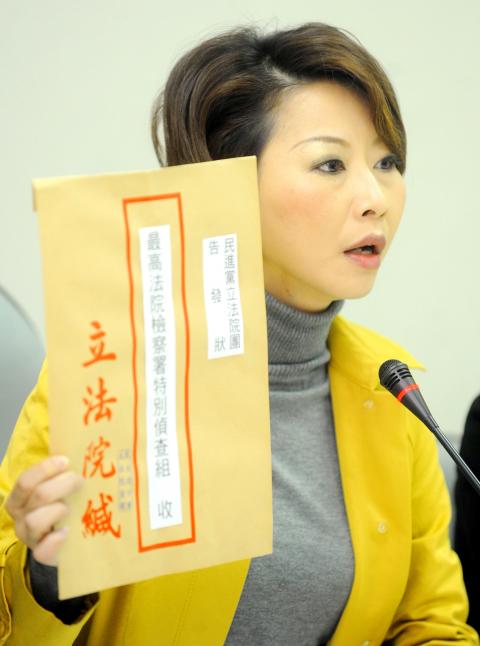 Democratic Progressive Party Legislator Chen Ting-fei holds up an envelope containing an official complaint at a press conference held by the DPP legislative caucus in Taipei yesterday.
Photo: Wang Yi-sung, Taipei Times
An audio recording of a Feb. 1 council meeting of experts obtained by DPP lawmakers, which was played during the legislature's Social Welfare and Environmental Hygiene Committee meeting on Thursday, prompted further allegations that more than just Bureau of Animal and Plant Health Inspection and Quarantine Director Hsu Tien-lai (許天來) might be involved in the matter.
Hsu, who denied that he had concealed the outbreak, was heard in the recording as saying that the notification of the outbreak to the OIE should be postponed until "after the boss steps down" because "it was not urgent."
DPP lawmakers said "the boss" could be either Chen Wu-hsiung, Wu or Ma, and the concealment could have been an attempt to benefit Ma's re-election campaign.
During the legislature's plenary session yesterday, Premier Sean Chen (陳冲), in response to DPP Legislator Hsiao Bi-khim's (蕭美琴) demand that the identity of "the boss" was made public, said that he had instructed the council to launch an internal investigation and would deliver a report in 10 days' time.
"All responsible officials will be held accountable after the report is completed," Sean Chen said.
However, the premier said his initial assessment of the incident was "the prolonged process of identification of the risk of an outbreak," rather than the concealment of news of an outbreak.
The council last Saturday announced that the culling of chickens at a farm in Changhua County's Fangyuan Township (芳苑) following an outbreak of H5N2 avian influenza had been completed earlier that morning. The chicken farm reported the disease on Dec. 27 last year.
The council listed the Fangyuan case, which experts said was a case of high-risk H5N2 avian flu, as a low-pathogenic strain of bird flu in its notification to the OIE.
Comments will be moderated. Keep comments relevant to the article. Remarks containing abusive and obscene language, personal attacks of any kind or promotion will be removed and the user banned. Final decision will be at the discretion of the Taipei Times.