Cabinet reshuffle sees 16 new names
CHANGES: Among the 47 officials in the new Cabinet, 36 are male, 11 female. A handover ceremony for the new and outgoing members will be held on Monday
Premier-designate Sean Chen (陳冲) yesterday unveiled his Cabinet lineup after President Ma Ying-jeou (馬英九) formally announced his appointment, with 16, or about one-third, of the 47 positions reshuffled.
All the Cabinet members were chosen because of their skills, which matched their respective positions, and regardless of their ethnicity or party affiliation, Chen told a press conference.
Chen said he was reluctant to use any "adjective" to describe the Cabinet, but that he hoped each agency would fulfill its full potential.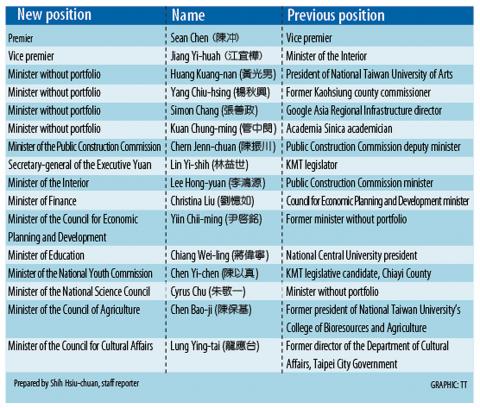 "The Cabinet is not the Chen Cabinet. It is the Executive Yuan of the Republic of China. I would not call it a finance and economic Cabinet, a culture Cabinet or by any other names," he said.
Lung Ying-tai (龍應台), who served as the first director of the Taipei City Government's cultural affairs department — an agency created by Ma when he was the city's mayor — was named minister of the Council for Cultural Affairs, replacing Ovid Tzeng (曾志朗).
Chen said Lung would continue to lead the department after the council is upgraded to a ministry, scheduled for May 20.
Simon Chang (張善政), director of Google Asia Regional Infrastructure, was appointed minister without portfolio in charge of technology-related affairs.
Chen said he persuaded Chang, who he said has a profound knowledge of hardware operations and digital convergence, to give up a higher-paying job at a multinational company to work for the government out of a sense of "patriotism" and to serve "national interests."
Chen Yi-chen (陳以真), a former TV news anchor who ran as the Chinese Nationalist Party's (KMT) legislative candidate for Chiayi County last month but lost, was tapped to replace National Youth Commission Minister Lee Yun-jie (李允傑).
Among the 47 Cabinet officials, 36 are male, 11 female. None of them hold dual nationality. Lung has permanent residency in Hong Kong, but she is in the process of relinquishing this status, Sean Chen said.
Four of the incoming Cabinet members have backgrounds in civil engineering: Yang Chiu-hsing (楊秋興) and Chang, who have been tapped as ministers without portfolio; Chiang Wei-ling (蔣偉寧), who is taking over the Ministry of Education; and Lee Hong-yuan (李鴻源), who will head the Ministry of the Interior.
Four holdovers in the Cabinet are Hakka, including central bank Governor Perng Fai-nan (彭淮南), Hakka Affairs Council Minister Huang Yu-cheng (黃玉振), Minister Without Portfolio Lin Junq-tzer (林政則) and Environmental Protection Administration Minister Stephen Shen (沈世宏).
Earlier yesterday, vice president-elect Wu Den-yih (吳敦義), who was also the premier, led the Cabinet in resigning en masse, a day before the swearing-in of the new legislature.
Wu said a handover ceremony for the new and outgoing Cabinet members would be held on Monday.
The Democratic Progressive Party (DPP) and the Taiwan Solidarity Union (TSU) expressed their disappointment over the new lineup.
"The Cabinet reshuffle was disappointing in a lot of ways," DPP Legislator Tsai Huang-liang (蔡煌瑯) told a press conference.
The new Cabinet was hardly "refreshing" as most of the new ministers are veteran politicians and familiar names, he said, adding that they were likely appointed as a reward for helping Ma win re-election.
Tsai said the most disappointing choices were Council for Economic Planning and Development Minister Christina Liu (劉憶如) — who is moving on to head the Ministry of Finance — while Minister without Portfolio Yiin Chii-ming (尹啟銘) was tapped to replace her at the council.
Tsai accused the two of being the "hired thugs" of the Ma administration for their attacks against the DPP's presidential candidate, DPP Chairperson Tsai Ing-wen (蔡英文), during the campaign.
"It would be difficult to count on the controversial pair [Liu and Yiin] to carry our country through the euro-debt crisis," he said.
Tsai Huang-liang also expressed concern over the appointment of Chiang as minister of education. He said that Chiang, a university president whose specialty is civil engineering, might not have the expertise to carry out the KMT's campaign promise to implement a 12-year compulsory education system by 2014.
Incoming Council of Agriculture minister Chen Bao-ji (陳保基), who had shown an interest in representing the KMT in the Pingtung County commissioner election, has been described as an academic with strong political ambition, Tsai Huang-liang said.
He added that he hoped Chen would be able to maintain administrative neutrality and work on improving the well-being of farmers.
TSU legislator-elect Hsu Chun-hsin (許忠信), who is also the party's designated caucus whip and an economics professor, said he was concerned with the performance of Liu and Yiin, given their poor records.
Hsu, who strongly opposes closer trade relations with China, said the priority of any economic policymaker in Taiwan should be the creation of a diverse trade and investment architecture, rather than placing all its eggs in one basket — that is, China.
Additional reporting by CNA
Comments will be moderated. Keep comments relevant to the article. Remarks containing abusive and obscene language, personal attacks of any kind or promotion will be removed and the user banned. Final decision will be at the discretion of the Taipei Times.