Chen pays respects at in-law's funeral
SAVE A PRAYER: Chen said that his wife was not a greedy person, as often claimed. She was the one who suggested cutting his salary in half when he was elected president
Former president Chen Shui-bian (陳水扁) fulfilled his familial obligation to pay his last respects to his late mother-in-law in Greater Tainan early yesterday amid massive police presence and a large crowd of eager supporters who gathered at the funeral home to greet him.
Escorted by prison officers and police, Chen arrived on a minibus at about 8:50am at the funeral home where the traditional mourning ceremony was to be held for Wu Wang Hsia (吳王霞), who died on Dec. 31 at the age of 85.
Greater Tainan remains an important support base for the Democratic Progressive Party (DPP), once chaired by Chen, who is currently serving a 17-and-a-half-year jail term for corruption.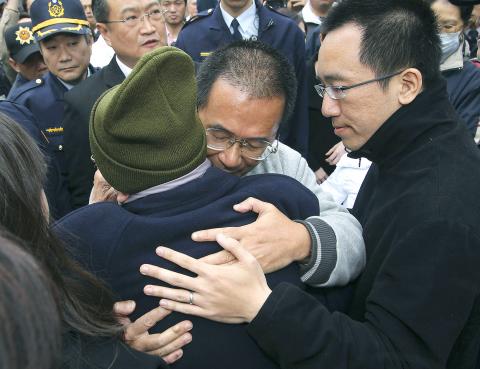 Former president Chen Shui-bian, center, hugs his mother, Chen Li Shen, as his son, Chen Chih-chung, right, watches, after paying respects to his late mother-in-law at a funeral home in Greater Tainan yesterday. Chen was given special dispensation to attend a Taoist prayer service with his family.
Photo: Reuters
As soon as he got off the bus, the former president went down on his knees and crawled into the building as part of a traditional rite. He was not shackled or handcuffed.
In the elegy he delivered, a -tearful Chen recalled that he last met Wu in June 2009 when she attended a court hearing to testify on his behalf, and he referred to himself as "unfilial" for not seeing her before she passed away.
Chen also expressed his gratitude to his late mother-in-law for supporting his marriage to her daughter, former first lady Wu Shu-jen (吳淑珍).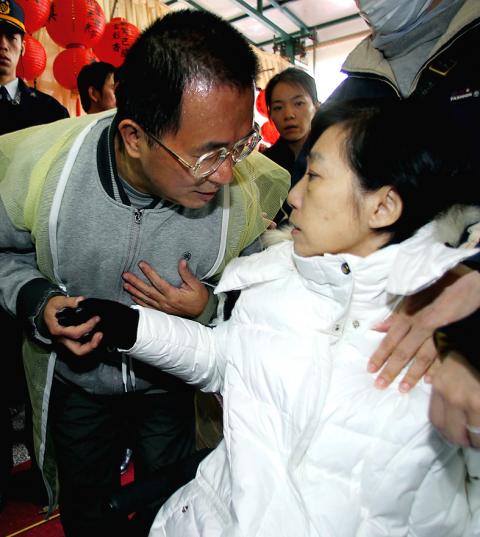 Former president Chen Shui-bian, left, consoles his wife, Wu Shu-jen, at a mourning pavilion in Sinying District, Greater Tainan, yesterday.
Photo: Chu Pei-hsiung, Taipei Times
He said his wife inherited her sense of justice and "Taiwanese consciousness" from her mother, and had encouraged him to enter politics.
In an apparent attempt to burnish his wife's reputation, which has been tainted by a conviction for graft, Chen said she was not a money-hungry person, as has been claimed.
He said that it was his wife who advised him to cut his own salary in half soon after he assumed the presidency in 2000.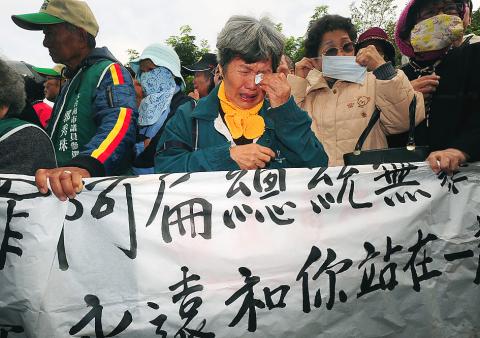 Supporters of former Taiwan president Chen Shui-bian display a banner reading "A-bian is innocent" as Chen arrived the altar of his mother-in-law in Greater Tainan yesterday.
Photo: AFP
The former president said he "definitely did not do the Taiwanese people wrong" or let his supporters down and expressed the hope that the judiciary would prove his innocence and see that justice is done in his various cases.
Chen's address was followed by chants of "the judiciary is dead" and "A-bian is innocent" from a crowd of supporters that gathered at the funeral home to greet him.
More than 300 supporters waited outside the venue to show their support for Chen.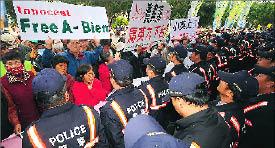 Supporters of former president Chen Shui-bian are blocked by policemen as Chen arrives at his mother-in-law's altar in Greater Tainan yesterday.
Photo: AFP
"I was very moved and very saddened by Chen's talk," said one of his supporters, Yang Chao, as she clutched a doll in the former president's likeness.
Others chanted slogans against President Ma Ying-jeou (馬英九) of the Chinese Nationalist Party (KMT), including "Ma step down."
Prior to his departure, Chen held a brief and emotional meeting with his mother, Chen Li Shen (陳李慎), as the two hugged and tears were shed.
At 11:02am, Chen was escorted back to the prison after spending two hours at the funeral home.
According to the former president's office, about 600 police were deployed at the funeral home.
The office protested the heavy police presence, accusing the authorities of treating the former president as if he was a murderer and his supporters like rioters.
Chen Shui-bian and family members have been implicated in a complex network of cases that have led to them being accused of sending political donations and secret diplomatic funds abroad, laundering millions of US dollars and taking kickbacks on government contracts.
The former president has said that the cases are politically motivated and part of a vendetta waged against him in retaliation for his eight years in power, when he sought to push Taiwan toward a more formal independence from China.
In December 2010, Chen Shui-bian and his wife were each sentenced to a total of 17-and-a-half years in prison for taking bribes during his term in office.
Wu Shu-jen, who is in poor health and requires constant care, has had her incarceration postponed indefinitely after a prison hospital refused to admit her in February last year. She has been confined to a wheelchair since being run over by a truck in the 1980s.
Comments will be moderated. Keep comments relevant to the article. Remarks containing abusive and obscene language, personal attacks of any kind or promotion will be removed and the user banned. Final decision will be at the discretion of the Taipei Times.