2012 ELECTIONS: DPP files charges over spying claims
DOUBLE STANDARDS? A lawyer said the SID should be able to probe claims of spying on Tsai Ing-wen just as quickly as it had probed accusations against her
The Democratic Progressive Party (DPP) yesterday filed charges against two high-ranking intelligence officials, accusing them of spying on the DPP's presidential candidate, Tsai Ing-wen (蔡英文).
DPP Legislator Chen Chieh-ju (陳節如) and lawyers Hsu Kuo-yong (徐國勇), Huang Di-ying (黃帝穎) and Lin Hong-wen (林鴻文) brought charges against National Security Council Secretary-General Hu Wei-jen (胡為真) and Ministry of Justice Investigation Bureau (MJIB) Director Chang Ji-ping (張濟平) at the Supreme Prosecutors' Office Special Investigation Division (SID) yesterday morning.
Hu and Chang have broken six laws, among them the Presidential and Vice Presidential Election and Recall Act (總統副總統選舉罷免法), the National Intelligence Services Act (國家情報工作法) and the Public Servants' Administrative Neutrality Act (公務人員行政中立法), and are also guilty of corruption, Hsu said.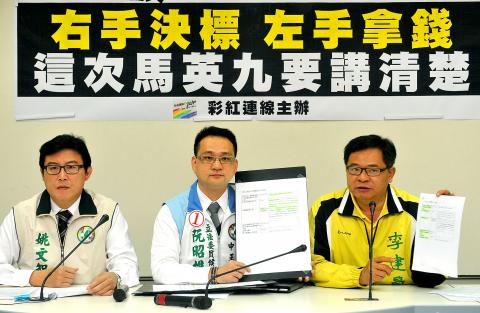 Democratic Progressive Party legislative candidates hold a press conference in Taipei yesterday to call on President Ma Ying-jeou to explain donations they said he had received from a contract-winning company. From left to right are Pasuya Yao, Juan Chao-hsiung and Lee Chien-chang.
Photo: Chien Jung-fong, Taipei Times
The two are at the center of a controversy described by the DPP as "Taiwan's Watergate," after the Chinese-language Next Magazine reported on Dec. 28 that Hu had asked the MJIB to deploy 28 agents nationwide to monitor Tsai.
According to the report, Hu had submitted information detailing the DPP chairperson's schedule, meetings, contacts and the possible number of votes at stake to President Ma Ying-jeou (馬英九).
"Hu and Chang have utilized the state apparatus to persecute the opposition candidate and to benefit Ma's re-election campaign," Hsu said.
Hsu, who on Monday cited an anonymous source inside the MJIB as saying Chang had given orders to destroy all documents related to the monitoring project, urged the SID to immediately launch an investigation and secure any evidence.
While the SID has said it would stay out of politics, if it could launch an investigation the day after Council of Economic Planning and Development Minister Christina Liu (劉憶如) accused Tsai of improper involvement in the formation of a biotech company, then it should also be able to immediately open an investigation into allegations of the government spying on Tsai, Hsu said.
Elsewhere yesterday, three DPP legislative candidates accused Ma of violating the Government Procurement Act (政府採購法) and the Political Donations Act (政治獻金法) before he became president.
Pasuya Yao (姚文智), Juan Chao-hsiung (阮昭雄) and Lee Chien-chang (李建昌) said during a joint press conference that during his presidential campaign in 2008, Ma had accepted six political donations from Pan Chun-jung (潘俊榮), chairman of Kung Sing Engineering Corp (KESCO, 工信工程).
Pan's company had won the bid to build Taipei's Neihu MRT line in 2003 when Ma was serving as the city's mayor, but the line was still under construction when the donations were made in 2008, which was a violation of the Political Donations Act, Yao said.
According to the Government Procurement Act, Ma's decision to grant the project to KESCO in 2003 was also illegal because the Central Investment Holding Co (中央投資公司), owned by the Chinese Nationalist Party (KMT), held 11.23 percent of KESCO's shares, the candidates said.
The trio added that they would file charges against Ma at the Taipei District Prosecutors' Office today.
In response, Ma's re-election campaign office yesterday said the president had handled political donations during the 2008 presidential campaign in accordance with regulations and urged the DPP not to avoid the discussion of Tsai's alleged wrongdoing in the case of Yu Chang Biologics (宇昌生技股份有限公司), now known as TaiMed Biologics (中裕新藥股份有限公司), by dredging up an old case in the hope of blackening Ma's name.
Additional reporting by Mo Yan-chih
Comments will be moderated. Keep comments relevant to the article. Remarks containing abusive and obscene language, personal attacks of any kind or promotion will be removed and the user banned. Final decision will be at the discretion of the Taipei Times.