Chinese officials back down to Wukan citizens
RARE OCCURRENCE: After staging vociferous protests that were discussed nationwide, resolute villagers received the concessions they wanted from the Chinese government
A Chinese village protest that tested the ruling Chinese Communist Party (CCP) for over a week ended yesterday after officials offered concessions over seized farmland and the death of a village leader, in a rare spectacle of the government backing down to mobilized citizens.
Residents of Wukan, in southern Guangdong Province, had fended off police with barricades and held protests over the death in police custody of activist Xue Jinbo (薛錦波), whose family rejects the government's position that he died of natural causes, and against the seizure of farmland for development.
However, after talks with officials, village representatives told residents to pull down protest banners and go back to their normal lives — provided the government keeps to its word.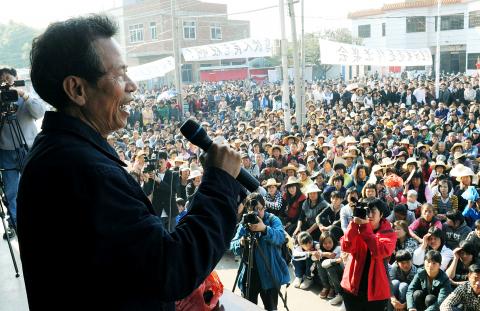 Villagers listen to a speech by village leader Lin Zulian, left, at a rally yesterday after he met with a senior government official and reached an agreement over illegal land grabs and the death in custody of a local leader in Wukan, Guangdong Province, China.
Photo: AFP
"Because this matter has been resolved, we won't persist in making noise," village organizer Yang Semao (楊色茂) told an assembly hall of village representatives and reporters, referring to the protests.
"They've agreed to our initial requests," Yang said.
However, he added a caveat: "If the government doesn't meet its commitments, we'll protest again."
Senior officials negotiating with villagers agreed to release three men held over land protests in September, when a government office was trashed, and to re-examine the cause of Xue's death, a village organizer said earlier.
Xue's family and fellow villagers believe he was subjected to abuse that left injuries on his body. The government said an autopsy showed he died of heart problems. Xue was detained over the land protests that broke out in September.
The concessions showed how eager higher leaders were to avoid the risk of fresh violence and bloodshed, said Ting Wai (丁偉), a political science professor at Hong Kong Baptist University.
"I think the local government did not want to make concessions, and then of course when time goes on, the people became more and more frustrated, and now it is really like a bomb, so in order to prevent the bomb from exploding the provincial government has to do something," he said.
Chinese officials sometimes make low-key concessions to local protests, especially after they are over, and also punish protest organizers. However, Wukan turned negotiations into a rare public spectacle, watched by foreign reporters and discussed within China — despite domestic censorship of news.
The CCP chief of Guangdong, Wang Yang (王洋), obliquely acknowledged that the villagers had cause to complain, in comments yesterday in the Southern Daily, the official provincial newspaper.
"This is the outcome of conflicts that accumulated over a long time in the course of economic and social development," Wang said, seen by many analysts as nursing hopes of a spot in China's next central leadership.
Comments will be moderated. Keep comments relevant to the article. Remarks containing abusive and obscene language, personal attacks of any kind or promotion will be removed and the user banned. Final decision will be at the discretion of the Taipei Times.