Landmark climate deal approved
A UN climate conference reached a hard-fought agreement yesterday on a far-reaching program meant to set a new course for the global fight against climate change.
The 194-party conference agreed to start negotiations on a new accord that would ensure that countries will be legally bound to carry out any pledges they make. It would take effect by 2020 at the latest.
The deal doesn't explicitly compel any nation to take on emissions targets, although most emerging economies have volunteered to curb the growth of their emissions.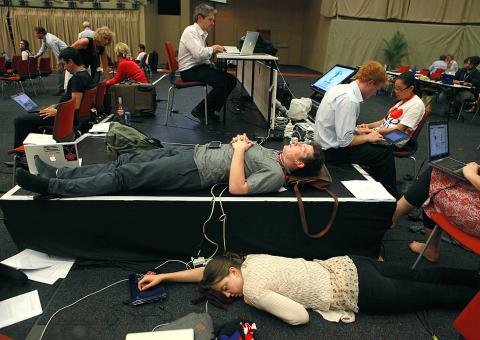 Tired delegates are seen resting early yesterday morning during the informal plenary on the final day of negotiations of the COP17 conference in Durban, South Africa.
Photo: AFP
Currently, only industrial countries have legally binding emissions targets under the 1997 Kyoto Protocol. Those commitments expire next year, but they will be extended for at least another five years under the accord adopted yesterday — a key demand by developing countries seeking to preserve the only existing treaty regulating carbon emissions.
The proposed Durban platform offered answers to problems that have bedeviled global warming negotiations for years about sharing the responsibility for controlling carbon emissions and helping the world's poorest and most climate-vulnerable nations cope with changing forces of nature.
The US was a reluctant supporter, concerned about agreeing to join an international climate system that likely would find much opposition in the US Congress.
"This is a very significant package. None of us likes everything in it. Believe me, there is plenty the United States is not thrilled about," US climate envoy Todd Stern said.
However, the package captured important advances that would be undone if it is rejected, he told the delegates.
Yesterday's deal also set up the bodies that would collect, govern and distribute tens of billions of dollars a year for poor countries. Other documents in the package lay out rules for monitoring and verifying emissions reductions, protecting forests, transferring clean technologies to developing countries and scores of technical issues.
UN Secretary-General Ban Ki-moon said the deal represents "an important advance in our work on climate change."
However, the deal's language left some analysts warning that the wording created huge loopholes countries could use to avoid tying their emissions to legal constraints and said there was no mention of penalties.
Environmentalists criticized the package — as did many developing countries in the debate — for failing to address what they called the most urgent issue, to move faster and deeper in cutting carbon emissions.
"The good news is we avoided a train wreck," said Alden Meyer, from the Union of Concerned Scientists, recalling predictions a few days ago of a likely failure. "The bad news is that we did very little here to affect the emissions curve."
Scientists say that unless those emissions — chiefly carbon dioxide from power generation and industry — level out and reverse within a few years, the Earth will be set on a possibly irreversible path of rising temperatures that lead to ever greater climate catastrophes.
The breakthrough yesterday capped 13 days of hectic negotiations that ran a day-and-a-half over schedule, including two round-the-clock days that left negotiators bleary-eyed and stumbling their words.
Delegates were seen nodding off in the final plenary session despite the high drama and uncertainty as to whether the talks would end in triumph or total collapse.
Comments will be moderated. Keep comments relevant to the article. Remarks containing abusive and obscene language, personal attacks of any kind or promotion will be removed and the user banned. Final decision will be at the discretion of the Taipei Times.