DPP lashes out at Lien-Hu APEC talks
TOO FAR: Lien Chan raised the issue of a cross-strait peace pact during the meeting, which the DPP said showed that negotiations on such an accord have already started
President Ma Ying-jeou's (馬英九) APEC envoy, Lien Chan (連戰), yesterday discussed the idea of signing a cross-strait peace agreement during a meeting with Chinese President Hu Jintao (胡錦濤), drawing criticism from the Democratic Progressive Party (DPP), which said this constituted a violation of Ma's "10 guarantees."
During his 55-minute meeting with Hu in Honolulu, Hawaii, prior to the main APEC leaders' summit scheduled for yesterday and today, Lien put forward the issue of signing a cross-strait peace agreement, saying he hoped both sides "could start to exchange views on the peace issue."
Lien expressed the hope that both sides could review the issue in due time, but that this should be a more long-term goal.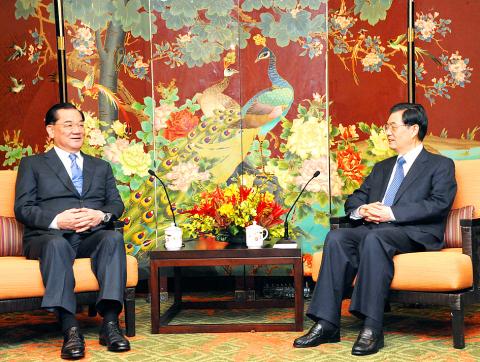 Chinese President Hu Jintao, right, talks with Taiwan's APEC envoy Lien Chan during the APEC forum in Honolulu, Hawaii, yesterday.
Photo: AFP
In Taipei, the Democratic Progressive Party (DPP) criticized Lien, saying his remarks suggested that "Ma's '10 guarantees' are a lie."
The DPP was referring to the "10 guarantees" Ma gave late last month that include "one framework, two prerequisites, three principles and four assurances" that he said would need to be in place before Taiwan would consider working toward a peace accord with China.
DPP spokesperson Chen Chi-mai (陳其邁) said Lien should have focused his talks with Hu on issues relating to international trade.
"That Lien broached the [peace agreement] issue with Hu shows that the Chinese Nationalist Party [KMT] has already started to negotiate with the Chinese Communist Party [CCP] on the peace accord behind closed doors," Chen said.
Noting that Ma had initially included negotiating a peace accord in his "golden decade" policy, but then later said a peace accord would not need to be limited to a decade, Chen added: "After Lien's meeting with Hu yesterday, it seems that the negotiations aren't going to take a decade as Ma said they would: They have already started. Ma has already started negotiations on a peace accord."
Saying that since the annual KMT-CCP summit began in 2005 and a Lien-Hu communique was signed, which included a point on resuming cross-strait negotiations to achieve peace, Chen said: "Ma's unilateral decision to use the results of the 2005 KMT-CCP closed-door negotiations as the guiding principle to negotiate a peace accord with China is using the will of one person and one party to decide the fate of the country."
"The move is pushing Taiwanese toward fear and an uncertain future," he said, adding: "Ma should tell us what he's worried about and explain why his cross-strait policies are so contradictory and rash."
During the Lien-Hu meeting yesterday, the two also touched on the so-called "1992 consensus." Hu said both sides should stick to the consensus and safeguard the peaceful development of cross-strait ties, while Lien said the consensus is the basis for the peaceful development of cross-strait relations and the cornerstone of cross-strait trade benefits and prosperity.
Lien also urged China to speed up negotiations on a cross-strait investment protection agreement and follow-up issues relating to the cross-strait Economic Cooperation Framework Agreement.
According to Lien, Hu acknowledged the complex nature of the issues and said that they would be resolved one by one.
Additional reporting by Rich Chang
Translated by Jake Chung, Staff writer
Comments will be moderated. Keep comments relevant to the article. Remarks containing abusive and obscene language, personal attacks of any kind or promotion will be removed and the user banned. Final decision will be at the discretion of the Taipei Times.