WIKILEAKS: PRC diplomats 'unhappy' with Ma's truce
Leaked US cables show that China's diplomatic service was "unhappy" with what was interpreted as Chinese President Hu Jintao's (胡錦濤) "tacit acceptance" of the "diplomatic truce" strategy advocated by President Ma Ying-jeou (馬英九).
When he assumed the presidency on May 20, 2008, Ma sought a "diplomatic truce" to end a longstanding tug-of-war with China in which both countries tried to poach each other's diplomatic allies by offering large sums of foreign aid.
A number of leaked US cables released by WikiLeaks suggest that Chinese officials in charge of diplomatic affairs and Taiwan affairs have been divided on the issue.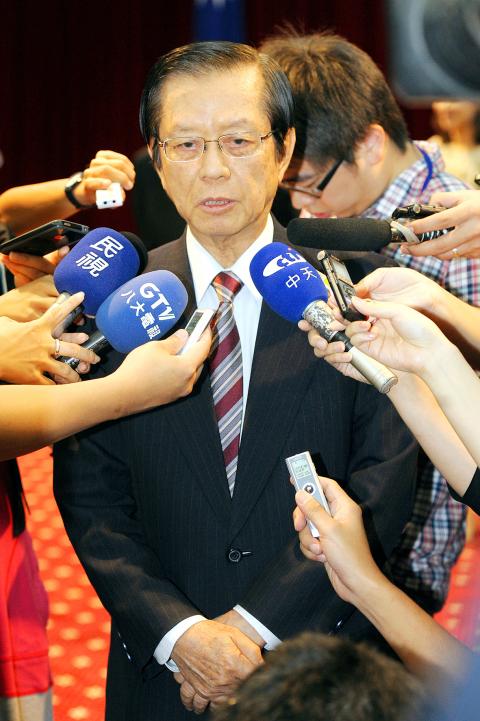 Minister of Foreign Affairs Timothy Yang talks to reporters in Taipei on Aug. 12.
Photo: George Tsorng, Taipei Times
A cable dated Jan. 16, 2009, from the US embassy in Beijing quoted Jin Canrong (金燦榮), a professor at Renmin University, saying that "the MFA [Ministry of Foreign Affairs] is still opposed to the ceasefire, in part because it means 'fewer ambassadorships' will be available to MFA career diplomats."
"Jin claimed the MFA is particularly unhappy because five countries that currently recognize Taiwan are willing to switch their recognition to the PRC [People's Republic of China], but the MFA has been forced to give up this 'achievement' because of pressure from the TAO [Taiwan Affairs Office] to observe the 'diplomatic ceasefire,'" the cable said.
Jin said the "ceasefire" would hold as long as "Hu continues to side with the TAO" over the MFA, the cable said.
The same cable made a mention of a fifth point addressed by Hu in his speech delivered on Dec. 31, 2009, marking the then-30th anniversary of the "New Year's Message to Taiwan Compatriots" that stated "avoiding internal strife in external affairs is conducive to furthering the overall interests of the Chinese nation."
The statement was interpreted by Chinese academics as Hu's "tacit acceptance" of Ma's "diplomatic truce" strategy, the cable said.
Zhou Zhihuai (周志懷), Secretary-General of the National Society of Taiwan Studies (NSTS), was quoted in the cable as telling the US embassy that "Hu could not formally mention the 'diplomatic ceasefire' because it implies the existence of two countries."
The cable quoted unidentified US experts, who met with Ma on Jan. 13 that year, as saying that "Ma said this phrase and Hu's endorsement of a 'comprehensive economic cooperation agreement' were the two positive responses from Hu to Ma's proposals."
Meanwhile, in another cable dated Aug. 20, 2008, Zhou "commented that the PRC is observing a diplomatic truce, but admitted the issue is divisive in Chinese policymaking circles" as he described to US officials "three political fault lines in the Chinese Government's internal debate over the diplomatic truce."
"The first is an institutional dispute between the MFA, which wants to score more diplomatic allies, and the TAO, which wants to avoid inflaming public opinion in Taiwan by orchestrating humiliating diplomatic defections. The second division is along age lines, with older cadres wanting to keep the diplomatic battle going and younger ones less inclined to fight for the last few small states. Lastly, a difference of opinion exists between scholars who are in favor of the truce and some older government officials, who tend to be more cautious," Zhou was quoted as saying in the cable.
Another cable originating from the American Institute in Taiwan dated Sept. 21, 2009, quoted Minister of Foreign Affairs Timothy Yang (楊進添) as saying that "it was not clear that PRC diplomats had responded to President Ma's 'diplomatic truce' by being less aggressive in efforts to isolate Taiwan."
"One possible explanation, Yang said, was that PRC diplomats overseas had not yet been given instructions on how to deal with their Taiwan counterparts. Certainly, he noted, the PRC Foreign Ministry was notoriously conservative on Taiwan issues. Finally, it was possible that instances of apparent ill-will by PRC diplomats reflected individual actions, rather than a coordinated MFA effort," the cable said.
Comments will be moderated. Keep comments relevant to the article. Remarks containing abusive and obscene language, personal attacks of any kind or promotion will be removed and the user banned. Final decision will be at the discretion of the Taipei Times.