Vietnamese rail against PRC amid mounting tensions
Hundreds of Vietnamese launched a third week of protests against China yesterday amid escalating tensions in disputed waters of the South China Sea, where both countries recently conducted live-fire military drills.
About 300 people gathered near the Chinese embassy in the capital, Hanoi, and marched through the streets, yelling "Down with China" and demanding that their powerful northern neighbor stay out of Vietnam's territory. Crowds also gathered in Ho Chi Minh City.
"We will fight for our country if the nation needs us," student Nguyen Manh Ha, 20, said. "Not only me, but all Vietnamese people will die to protect our territory."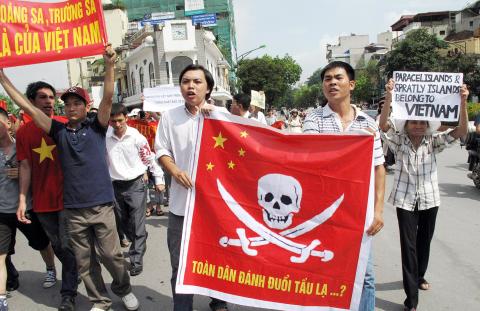 Protesters march with banners as well as a Chinese national flag with an image of a pirate's skull and swords at an anti-China demonstration in Hanoi yesterday. The words on the flag read, "Everyone fight against illegal foreign boats."
Photo: Reuters
Protests are extremely rare in Vietnam and are typically quashed quickly by security forces, but Hanoi has allowed the demonstrations to go on for the past three Sundays amid tight security. At one point, the crowd, waving Vietnamese flags, stopped at a department store and shouted "Boycott Chinese products!"
"I'm here today to protect my country from an invading China," said Nguyen Long, 82, who fought in a short, bloody land border war with China in 1979. "I'm sure those in the embassy are listening to us shouting: 'Down with China!'"
Relations between the authoritarian countries hit a low point after two incidents in the past month involving clashes between Chinese and Vietnamese boats in the South China Sea.
Vietnam accuses Chinese vessels of hindering oil exploration surveys in an area 200 nautical miles (370km) off its central coast that it claims as its economic exclusive zone. China says Vietnam illegally entered its waters near the disputed Spratly Islands (南沙群島) and endangered Chinese fishermen.
The two sides have a long history of exchanging diplomatic jabs over maritime incidents, mainly involving areas around the believed resource-rich Spratlys and Paracel Islands (西沙群島), which are claimed all or in part by Vietnam, China, Taiwan and several other Asian countries. However, the current spat has become much more hostile.
Vietnam held live-fire naval exercises off its central coast on Monday last week — the same day the government issued an order outlining who would be exempt from a military draft. On Friday, China announced it had also recently held three days and nights of drills in the South China Sea, though it did not give exact dates.
The US has said the South China Sea, home to key shipping lanes, is in its national interest. China says territorial disputes should be handled one-on-one, but Hanoi has said it welcomes foreign assistance to maintain regional peace.
The US and Vietnam issued a joint statement on Friday following an annual defense dialogue, with Washington saying the recent "troubling" incidents raise concerns about maritime security.
Comments will be moderated. Keep comments relevant to the article. Remarks containing abusive and obscene language, personal attacks of any kind or promotion will be removed and the user banned. Final decision will be at the discretion of the Taipei Times.