General's alleged comment draws fire
'ONE CHINESE ARMY': The KMT caucus said the defense minister should resign for failing to set clear rules on cross-strait military personnel exchanges with Beijing
Lawmakers across party lines yesterday lashed out at a retired general for allegedly suggesting that the Republic of China (ROC) Army and the People's Liberation Army (PLA) be called "China's army."
Taiwanese media, citing a Chinese media report quoting PLA Major General Luo Yuan (羅援), said a Taiwanese speaker recently told a gathering of retired generals from both sides of the Strait in China: "From now on, we should no longer separate the ROC Army and the PLA. We are all China's army."
The report identified the speaker as former ROC Air Force General Hsia Ying-chou (夏瀛洲).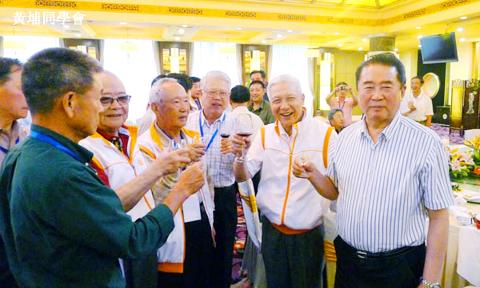 A photo grab from the Web site of Huang Pu Jun Xiao Tong Xue Hui shows former Republic of China Air Force General Hsia Ying-chou, right, and other retired generals from Taiwan and China toast in Sichuan Province.
Photo: Lo Tien-pin, Taipei Times
The Ministry of National Defense (MND) yesterday issued a statement saying it had checked with Hsia, who said the media report was "not factual."
The statement said the ministry had never authorized any group or individual to discuss, exchange views or speak with China on its behalf, adding that any comments made by individuals were said in a "private" capacity.
DENIAL
Hsia's denial did little to appease lawmakers, with the Chinese Nationalist Party (KMT) caucus demanding the resignation of Minister of National Defense Kao Hua-chu (高華柱) and Political Warfare Department Acting Director General Wang Ming-wo (王明我), saying they had "failed to set clear rules on military personnel exchanges with China."
KMT caucus whip Hsieh Kuo--liang (謝國樑) said the reported comments had "seriously damaged the country's dignity."
Although retired generals are not banned from visiting China, the ministry must ensure that their statements and actions in China "meet public expectations," Kao said.
KMT Legislator Wu Yu-sheng (吳育昇) said Hsia should apologize to the public and the Taiwanese military if the reports were true.
Wu added that statutory rules were needed to ban retired military officers from engaging or attending military-related exchanges or forums in China.
Wang, however, expressed reservations about formally banning cross-strait exchanges of military officers.
"The MND never authorizes any groups to attend these exchange activities," Wang said.
He added that under current rules, retired military officers are not barred from making statements or attending cross-strait military exchange activities and are not subject to punishment as long as they do not disclose classified information.
Dissatisfied with Wang's answer, Hsieh said the ministry, including Kao, should be held responsible if it failed to address the problem.
Democratic Progressive Party (DPP) lawmakers questioned whether Hsia should continue receiving pension benefits as mandated by law, which amounts to about NT$170,000 a month.
If the allegations were true, the government should consider whether it is right that the retired general, "a person who wants to be a part of the Chinese army," deserves to continue receiving money from Taiwanese taxpayers, DPP Legislator Wong Chin-chu (翁金珠) said.
'TRAITORS'
DPP Legislator Tsai Huang--liang (蔡煌瑯) said retired generals who had traveled to China are "traitors who wished they were communists."
The DPP caucus said the caucus was also considering amending the law to prevent retired senior officers from imitating the behavior of those retired generals, which they said had "impacted on Taiwan's security."
Replying to media questions on the sidelines of an industrial forum in Taipei, Premier Wu Den-yih (吳敦義) said he found Hsia's alleged remarks unacceptable, adding that they "were inconsistent with the fundamental policy of the Republic of China."
Comments will be moderated. Keep comments relevant to the article. Remarks containing abusive and obscene language, personal attacks of any kind or promotion will be removed and the user banned. Final decision will be at the discretion of the Taipei Times.