Aborigines slam Ma's remarks on total autonomy
Several Aboriginal activists yesterday condemned remarks President Ma Ying-jeou (馬英九) made on Wednesday, when he said that complete autonomy for Aborigines would only bring isolation, and that Aborigines should be valued for their talent in sports and music.
"We Aborigines cannot agree at all with the discriminatory remarks that Ma made against the country's Aborigines during a Chinese Nationalist Party [KMT] Central Standing Committee meeting on Wednesday," Indigenous Peoples' Action Coalition of Taiwan (IPACT) convener Omi Wilang told a news conference in Taipei. "We strongly condemn the remarks. He should apologize for them."
Other activists at the press conference supported Omi's call, and shouted in unison for Ma to apologize.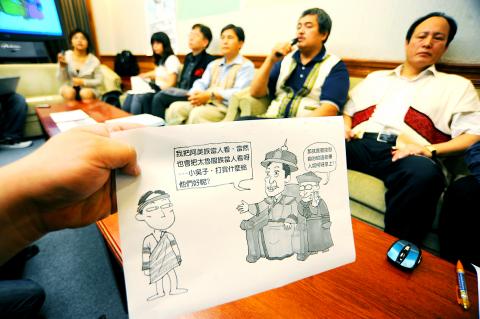 Members of the Indigenous Peoples' Action Coalition of Taiwan yesterday condemn President Ma Ying-jeou's remarks about how complete autonomy for Aborigines would bring isolation and that Aborigines should be valued for their talents in sports and music.
Photo: Lo Pei-der, Taipei Times
"This is not the first time that Ma has made discriminatory remarks against Aborigines," Assembly of the Atayal Nation -secretary-general Utux Lbak said. "As it becomes a universal value around the world to respect indigenous peoples' rights to the land and autonomy, the president is falling far behind the global trend."
The activists were "livid" because Ma, in his capacity as KMT chairman, told the KMT Central Standing Committee meeting that "ceding territories" to Aborigines to create autonomous regions is not what was best for Aborigines, since it could isolate them.
He also said the public should value the talents of Aborigines more, such as in sports or in music, and that Aborigines may need "some degree of protection."
"How is [the government] 'ceding territories' if autonomous regions are created? Aboriginal traditional domains are all our territories, it's the several foreign regimes [that ruled Taiwan over the course of history] that took our lands," Utux said. "We're not asking [the government] to cede territories, we are only asking for our basic rights."
Former Examination Yuan member Iban Nokan, on the other hand, criticized the Aboriginal autonomy bill drafted by the Executive Yuan, which incorporated Ma's ideas about Aboriginal autonomy.
"The Executive Yuan's draft autonomy bill is more about creating Aboriginal cultural preservation areas under current local government systems than creating authentic autonomous regions," Iban said. "We Aborigines want our own autonomy, not Han people's version of Aboriginal autonomy."
As long as Ma does not change his Han-centric and Han supremacist mentality, "I don't have any expectations for the Executive Yuan's version of the autonomy bill," he said.
However, KMT Legislator Liao Kuo-tung (廖國棟) of the Amis tribe, who is also a member of the KMT's Central Standing Committee, defended Ma's remarks and the government's version of Aboriginal autonomy.
"Ma was elaborating on his Aboriginal policies and he was very sincere about implementing autonomy, as he promised during the presidential campaign [in 2008]," Liao said, adding that there was no need to pay so much attention to Ma's choice of words.
Liao said he supports Ma's idea of implementing autonomy on a trial basis in the initial stage.
"If you try to pour too much stuff into the autonomy bill, it will become chaotic," he said. "I think it's a better idea to have a basic framework first, and then amend the law as necessary later on."
Comments will be moderated. Keep comments relevant to the article. Remarks containing abusive and obscene language, personal attacks of any kind or promotion will be removed and the user banned. Final decision will be at the discretion of the Taipei Times.