Tzu Chi founder among 100 'most influential': 'Time'
Taiwan's Dharma Master Cheng Yen (證嚴法師), founder of the Buddhist Compassion Relief Tzu Chi Foundation, was named as one of this year's 100 most influential people in the world by Time magazine in recognition of her contributions to serving the needy.
Cheng, 73, founded Tzu Chi in 1966, with the motto of "instructing the rich and saving the poor," with four major missions — charity, medicine, education and culture.
Under Cheng's leadership, Tzu Chi is now a global organization involved in international disaster relief, bone marrow donations, environmental protection and community volunteer work.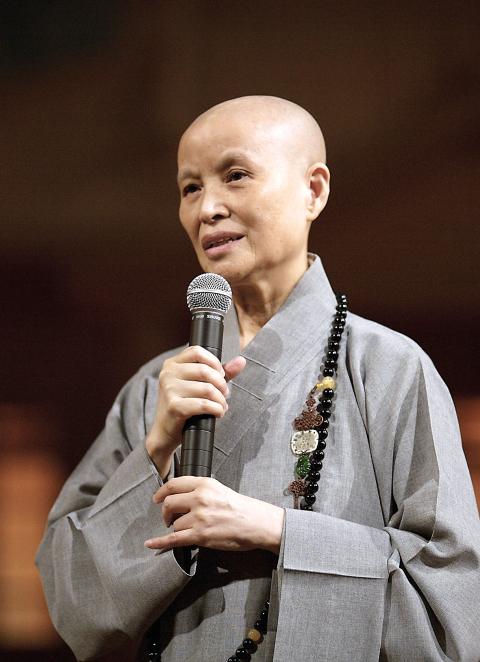 Dharma Master Cheng Yen, founder of Taiwan's largest charity -- the Buddhist Compassion Relief Tzu Chi Foundation, in this undated file photo.
Photo courtesy of the Buddhist Compassion Relief Tzu Chi Foundation
The venerable nun also took fifth place with 112,330 votes in a "People's Choice" online poll conducted by the magazine. Time's Asia editor Zoher Abdoolcarim described her as "a saint."
Detained Chinese artist Ai Weiwei (艾未未), the activist mayor of a tsunami-hit Japanese town, and South Korean singer Rain were also on the list.
Campaigners made a strong showing among the 17 Asians on the global list, which the magazine said was themed around social media and activism.
However, topping a separate reader poll was Rain, as Time's online readers cast aside moguls and heads of state for the third year running in favor of the heartthrob and singer of Hip Song.
Ai, detained in Beijing since April 3 on suspicion of "economic crimes" and whose whereabouts are unknown, appears in an entry unlikely to please the Chinese government.
China's rising influence is also reflected in the listing of Charles Chao (曹國偉), founder of the Web giant Sina-Weibo (新浪), journalist Hu Shuli (胡舒立), who started Caijing (財經) magazine, and media personality Hung Huang (洪晃).
Chinese Vice President and leader-in-waiting Xi Jinping (習近平) also made the list.
Leading Myanmar dissident Aung San Suu Kyi is meanwhile described as an "Asian hero and global inspiration" in an entry written by exiled Chinese campaigner Wang Dan (王丹), a leader of the 1989 Tiananmen Square protests.
However, also on the list appears Kim Jong-un, bluntly described as North Korea's "tyrant in waiting" since his father and national leader Kim Jong-il apparently named him as a successor.
The disasters in Japan — hit by a huge earthquake, tsunami and nuclear emergency in March — brought onto the list two men who were anything but household names until the quake: Katsunobu Sakurai and Takeshi Kanno.
Sakurai, mayor of the Japanese town of Minamisoma, earns the title "Boat Rocker" for his decision two weeks after the disasters to release a passionate YouTube video calling for help for his town from the central government.
Local doctor Kanno, who saved dozens of people at a public hospital by moving them to a high floor before the tsunami hit, joined him on the list.
WikiLeaks frontman Julian Assange, German Chancellor Angela Merkel and pop music heartthrob Justin Bieber were also among the 100 "most influential people in the world," as well as 30-year-old Wael Ghonim, the Google executive who became a hero of the Egyptian revolution.
Britain's royal couple Prince William and Kate Middleton to be married next Friday appear together as one entry.
Comments will be moderated. Keep comments relevant to the article. Remarks containing abusive and obscene language, personal attacks of any kind or promotion will be removed and the user banned. Final decision will be at the discretion of the Taipei Times.