Pool player switches to PRC citizenship
PROFESSIONAL NATIONALITY: Wu Chia-ching said his decision was made purely for competition reasons. He had previously considered becoming a citizen of Singapore
The Sports Affairs Council yesterday said it regretted a decision by Wu Chia-ching (吳珈慶), the nation's top pool player, to relocate to China and take Chinese citizenship to participate in international tournaments.
Wu, 22, rose to fame after he won the world 8-ball and 9-ball championships in 2005 at the age of 15. He first courted controversy two years ago when it was discovered that he was considering applying for Singaporean citizenship to further his career.
Wu said yesterday that his decision to become a citizen of the People's Republic of China (PRC) was made purely for professional reasons and should not be regarded in a political light.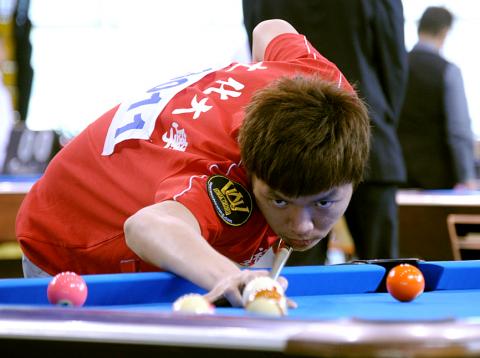 Taiwan's top pool player, Wu Chia-ching, competes in the University and College Pool Championships on May 15 last year. Wu has taken Chinese citizenship to represent China in a pool tournament in Beijing.
Photo: Hsu Ming-li, Taipei Times
However, the council said Wu's decision could have consequences.
"While the application was filed for Wu's personal reasons … the action could have violated regulations in Taiwan, given the complicated cross-strait situation," the council said in a statement.
Still, there were some words of encouragement.
"We respect his choice," council spokesperson Steven Chen (陳士魁) said. "We hope that he can perform as well as other Taiwanese athletes and he has our blessings."
While the council had no right to stop athletes from seeking a professional sports career abroad, the nation should assess whether it provides a good environment for athletes, Chen said.
"We have budgeted the Sports Development Fund (運動發展基金) to subsidize excellent athletes," he said. "Hopefully we can retain more talented people in Taiwan."
Chinese Taipei Billiards Association chairman Tu Yung-hui (涂永輝) said the association was unaware that Wu, 22, would represent China at the Beijing Open hosted by the World Pool-Billiard Association (WPA) on Monday until it was officially informed by the China Billiard Association (CBA) on Wednesday.
The CBA sent Tu a fax showing Wu had obtained a temporary resident identification card for the PRC, meaning that he would soon receive his official residency documents.
During a telephone interview with the Taipei Times, Wu's uncle, who refused to give his name, but is with Wu in Beijing, accused Tu and the Chinese Taipei Billiard Association of "destroying" Wu's career before he could accept a nationality deal offered by Singapore.
Wu's decision was made so that he could focus on playing pool, the uncle said, adding that the CBA had never approached Wu.
"Wu … has been staying with me in Shenzhen, Guangdong Province, since March last year," the uncle said.
Tu said he had met Wu and his father in 2009 after learning that Wu was considering becoming a Singaporean citizen.
"We told them that if he chose to go to Singapore, he could not participate in any tournament in Taiwan, nor could he represent Taiwan at any international competition," Tu said.
Wu was also told he might be asked to return a NT$900,000 national award if he joined Singapore's national team, Tu said.
While the association cannot guarantee an annual salary, Tu said Wu had plenty of opportunities to play in Taiwan and could easily have collected award money.
Wu went ahead with his decision to go to Singapore, Tu said as he showed reporters an agreement signed by Wu saying he understood the consequences.
ADDITIONAL REPORTING BY CNA
Comments will be moderated. Keep comments relevant to the article. Remarks containing abusive and obscene language, personal attacks of any kind or promotion will be removed and the user banned. Final decision will be at the discretion of the Taipei Times.