Annette Lu planning presidential bid
WHO's GOT THE CHOPS? Lu vehemently opposed the leadership of the DPP when it decided to change its nomination process and use a national poll to select its candidate
Former vice president Annette Lu (呂秀蓮) made it clear yesterday that she will run for president next year, a decision she said she would formally announce on Monday at a public rally in Taipei.
Lu, who was former president Chen Shui-bian's (陳水扁) running mate in 2000 and 2004, said she was prompted to enter the campaign by the recent row with the Philippines over the deportation of 14 Taiwanese fraud suspects to China.
She said both the Chinese Nationalist Party (KMT) and the Democratic Progressive Party (DPP), to which she belongs, mishandled the incident.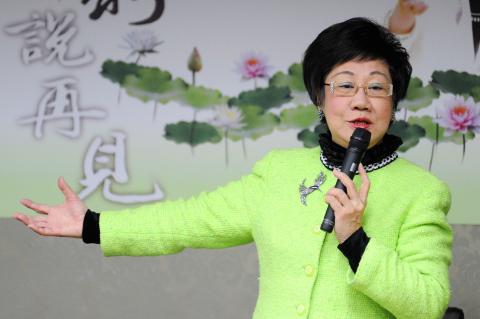 Former vice president Annette Lu talks to reporters at a press conference in Taipei yesterday.
Photo: George Tsorng, Taipei Times
If Taiwan's international status remains unclear and the ruling and opposition parties are only capable of mudslinging, "the Philippines incident will only be the beginning of many problems facing this country," she said.
Asked why she thought former premier Su Tseng-chang (蘇貞昌) and DPP Chairperson Tsai Ing-wen (蔡英文) have higher poll ratings than she does, Lu said that was because they both ran for office recently, so it was only natural they had greater popularity now.
"How could they not enjoy the media limelight?" Lu said.
Su was the DPP's candidate for Taipei mayor in November and its vice presidential candidate in 2008. Tsai was the DPP's candidate for New Taipei City (新北市) mayor in November and has been DPP chairperson for the past three years.
Saying her experience as vice president has made her uniquely qualified for the presidency, Lu said she wants to deal with many of the issues she could not tackle as vice president because of the constitutional limits on that office's power.
She challenged the DPP to find another candidate who has the expertise to compete against President Ma Ying-jeou (馬英九).
"Given Ma's educational and political experience, which DPP candidate is strong enough to beat him?" Lu asked.
She said the DPP would poll 15,000 people by telephone as part of its primary process, with questions that put the various DPP presidential hopefuls up against Ma.
Lu vehemently opposed the party leadership last month when it decided to change the nomination process and use a national poll to select its presidential candidate. Lu wanted party members to have more of a say in the nomination process.
Lu was skeptical of the process yesterday, saying it was "not that easy" for all the DPP factions to "discuss and coordinate" and agree on a candidate.
However, she said she would support a candidate if she believed that person had the ability to handle Taiwan's "five crises" — a phrase commonly used in DPP circles to refer to national sovereignty, military readiness, diplomatic isolation, financial stability and the prosperity of the people.
Tsai and most DPP lawmakers yesterday said they would respect Lu's decision to enter the race, one was not happy that Lu had been so critical of Tsai and Su.
"She should talk about the nation's major issues, instead of acting childishly and criticizing the party's chairperson or the former premier," DPP Legislator Kuan Bi-ling (管碧玲) said.
Comments will be moderated. Keep comments relevant to the article. Remarks containing abusive and obscene language, personal attacks of any kind or promotion will be removed and the user banned. Final decision will be at the discretion of the Taipei Times.