Protesters throw flowers at Chen Yunlin
Protesters yesterday threw flowers at the motorcade of Association for Relations Across the Taiwan Strait Chairman Chen Yunlin (陳雲林) in an attempt to draw attention to Beijing's crackdown on pro-democracy activists and rights lawyers.
Instead of jasmine, which has come to symbolize the protests that have swept across north Africa and the Middle East, protesters waved and handed out white chrysanthemums because jasmine is not in season, organizers said.
The protesters also wore white headbands with the words "Respect, Jasmine, Peace" printed on them and called on China to respect human rights, democracy and the right to assembly.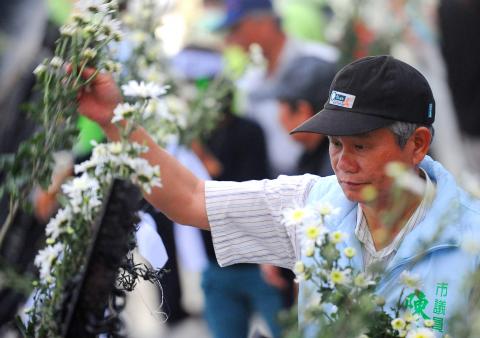 A pro-Taiwan independence activist puts a flower onto a barricade outside the hotel in Greater Kaohsiung where Chinese envoy Chen Yunlin is staying.
Photo: Sam Yeh, AFP
A retired civil servant at the protest said that "of course" he supported pro-democratic protests in China, adding that they could pave the way for more peaceful relations with Taiwan.
"We don't have anything against the Chinese people — it's the government we are concerned with," said the man, who did not give his name.
Outside E-DA World, where Chen is staying, representatives from pro-independence groups gathered together in the afternoon and sang Mo Li Hua, a popular Chinese folk song about jasmine, while waving the white flowers in the direction of the hotel.
During Chen's first day in Taiwan on Monday, protesters including Democratic Progressive Party politicians attempted to deliver plastic flowers and a box of jasmine juice to the hotel where the Chinese delegation was staying.
Demonstrators attempted to do so again yesterday, but were quickly stopped by police.
Comments will be moderated. Keep comments relevant to the article. Remarks containing abusive and obscene language, personal attacks of any kind or promotion will be removed and the user banned. Final decision will be at the discretion of the Taipei Times.