Animal activists caution against pet rabbit craze
Animal rights activists yesterday called for people to respect animal rights and not abandon pets, especially rabbits, ahead of an expected increase in demand for the animals in the upcoming Year of the Rabbit.
Rabbits are expected to be the latest pet craze as this year is the Year of the Rabbit on the lunar calendar. Bunny sales at pet shops are expected to jump, and animal shelters are worried about a wave of abandoned pets as a consequence.
"A lot of people buy rabbits because they assume they are small and easy to raise and some parents chose rabbits as pets for their kids under this impression. We've seen many abandoned rabbits around schools and neighborhood parks and we could find more abandoned rabbits this year," said Liao Shue-ping (廖雪屏) of the Taiwan Homeless Bunny Protection Association.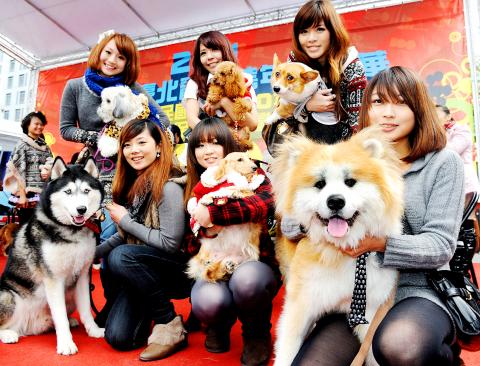 Six women pose together with their dogs to improve their chances in the pet-and-girl beauty contest at the Sixth Taipei Pet Festival in Taipei City yesterday.
PHOTO: FANG PIN-CHAO, TAIPEI TIMES
She said the association has rescued about 40 abandoned rabbits in the past 18 months. She said many rabbits died before they were rescued because they can only survive for two days outdoors.
"We are concerned about more people buying rabbits for good luck on impulse this year in the Year of the Rabbit and later abandoning them," she said.
The rabbit protection group joined other animal groups, veterinary clinics and Taipei City's Animal Protection Office at a pet festival in the plaza of the Shinkong Mitsukoshi Department Stores (新光三越) in Xinyi District (信義) to call for the protection of animal rights.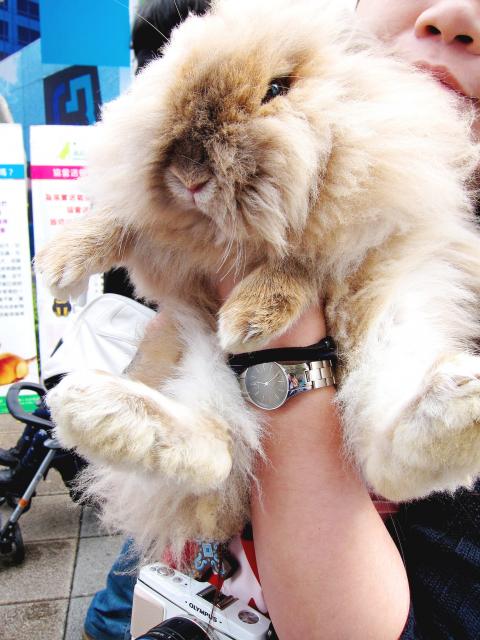 An animal rights group volunteer in New Taipei City holds up her furry rabbit for a photo -yesterday.
PHOTO: LIN HSIANG-MEI, TAIPEI TIMES
Yen Yi-feng (嚴一峰), director of the city's Animal Protection Office, said the office would continue to work with civic animal rights groups to catch stray animals and preserve wildlife, with the goal of making the city more animal-friendly.
The office's priority, he said, would be rescuing mistreated animals, in addition to managing 220,000 registered cats and dogs in the city.
The pet festival will continue today at the plaza from 1pm to 8:30pm.
Comments will be moderated. Keep comments relevant to the article. Remarks containing abusive and obscene language, personal attacks of any kind or promotion will be removed and the user banned. Final decision will be at the discretion of the Taipei Times.