Prosecutors indict High Court judges
CORRUPTION SCANDALS: A total of 13 people were charged in connection with two cases, with prosecutors seeking jail terms of up to 24 years for the judges involved
Three senior Taiwan High Court judges and a former Chinese Nationalist Party (KMT) county commissioner were indicted on corruption charges yesterday, in what have been called the worst graft scandals to involve the nation's top judiciary in years.
The Supreme Prosecutors' Office Special Investigation Panel indicted a total of 13 individuals in two separate cases involving the three High Court judges, including a Banciao (板橋) prosecutor, a retired judge and two lawyers.
Prosecutors said they are seeking a jail term of 24 years and a fine of NT$1.5 million (US$50,000) for High Court Judge Tsai Kuang-chih (蔡光治), who is accused of taking bribes during a corruption case involving former KMT Miaoli County commissioner Ho Chi-hui (何智輝), who was also indicted yesterday.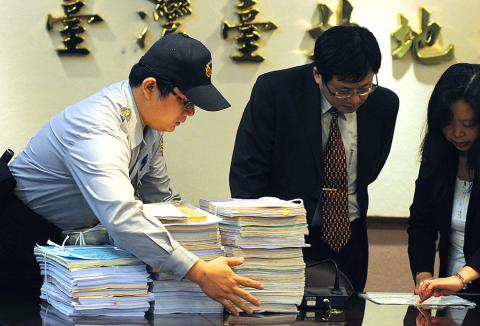 Police and staff at the Taipei District Court compile documents related to a corruption scandal involving three Taiwan High Court judges yesterday before the case was assigned to a judge for trial.
Photo: Wang Yi-sung, Taipei Times
They asked for 18 years and a NT$1.5 million fine for High Court Judge Chen Jung-ho (陳榮和) and 11 years and a NT$2 million fine for High Court Judge Lee Chun-ti (李春地), both of whom were charged with graft.
"What they did has tainted the judicial authority and led the people to lose faith in the judicial system. We therefore demanded a heavy punishment for them," the indictment said.
One case stems from Ho's indictment in 2004 on charges of receiving large kickbacks during the development phase of the Tongluo expansion of the Hsinchu Science Park in Miaoli County. He was convicted in 2006 and sentenced to 19 years in prison, a verdict that he appealed to the Taiwan High Court. Chen, Lee and Tsai heard his appeal and in May of this year, Chen and Lee found Ho not guilty.
Prosecutors claim that in April, Ho and his secretary, Hsieh Yen-jen (謝燕貞), gave Banciao prosecutor Chiu Mao-jung (邱茂榮) a NT$3.5 million bribe, of which NT$2 million was allegedly handed to Lee, while Chiu kept the rest.
Prosecutors alleged that Ho and Hsieh gave Tsai's girlfriend, Huang Lai Jui-jen (黃賴瑞珍), NT$2 million in cash, of which Tsai and Huang are believed to have kept NT$500,000, with Tsai delivering NT$1.5 million to Chen at his High Court office.
Prosecutors asked for a three-year sentence for Chiu.
Revelations about the case led to Judicial Yuan president Lai In-jaw's (賴英照) resignation in July to take responsibility for the scandal and prompted President Ma Ying-jeou (馬英九) to renew his promise to build a clean government and to pledge to set up an anti-corruption watchdog agency.
In the second case, prosecutors requested 11 years for former Taiwan High Court judge Fang A-sheng (房阿生), who is suspected of taking bribes from Chang Ping-lung (張炳龍), a former judge at the High Court's Hualien branch, to help clear Chang in a 2005 corruption trial.
Chang had been charged with taking NT$300,000 from a plaintiff in return for delivering a not guilty verdict. He was found guilty in previous trials before his case was assigned to a fourth retrial. Although a panel of three judges, including Fang, found him not guilty, at a fifth retrial he was sentenced to 11 years in prison.
Chang fled to China before he could be jailed and remains there.
Prosecutors yesterday asked for an additional five years for Chang and four years for Chiu.
After the indictments were announced, State Public Prosecutor-General Huang Shyh-ming (黃世銘) said the Special Investigation Division (SID) would intervene and/or cooperate with local prosecutors in investigations of judges accused of bribe-taking or other corruption offenses.
The SID, which usually investigates corruption allegations involving the president and other senior government officials, would also intervene and issue indictments in corruption cases involving three or more High Court judges, or five or more judges or prosecutors at the local court level, Huang said.
Broadening the SID's portfolio is aimed at streamlining discipline in the judiciary, Huang said in a written statement.
Additional reporting by AFP and CNA
Comments will be moderated. Keep comments relevant to the article. Remarks containing abusive and obscene language, personal attacks of any kind or promotion will be removed and the user banned. Final decision will be at the discretion of the Taipei Times.