China wants diplomatic action on Iran
China said yesterday it wanted any UN Security Council action on Iran to promote a diplomatic way out of the nuclear standoff, edging closer to openly backing a resolution while hedging on sanctions.
The remarks from Chinese Foreign Ministry spokeswoman Jiang Yu (姜瑜) followed a meeting on Monday between Chinese President Hu Jintao (胡錦濤) and US President Barack Obama in which, said a US official, Hu agreed his government would help craft a new Security Council resolution pressing Iran over its nuclear activities.
Jiang was not so blunt, but her comments appeared to leave scant doubt that Beijing accepts that fresh Security Council action over Iran is coming, even if China wants room to negotiate over the sanctions proposed by Western powers.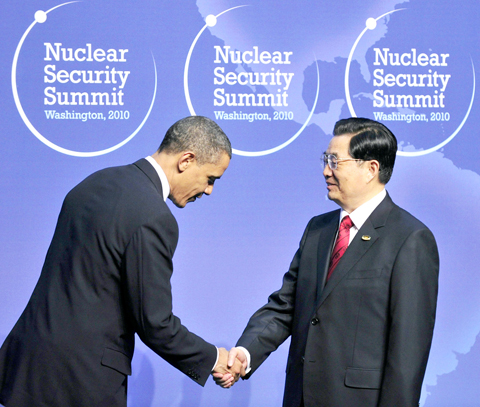 US President Barack Obama bows to Chinese President Hu Jintao at the Nuclear Security Summit at the Washington Convention Center in Washington on Monday.
PHOTO: EPA
"We believe that the Security Council's relevant actions should be conducive to easing the situation and conducive to promoting a fitting solution to the Iranian nuclear issue through dialogue and negotiations," Jiang told a news conference in Beijing, answering a question about the talks between Hu and Obama in Washington. "We support protecting the international nuclear non-­proliferation regime and peace and stability in the Middle East, and oppose Iran possessing nuclear weapons."
China has close energy and economic ties with Iran and has been reluctant to back tougher sanctions, but Beijing has backed past rounds of UN sanctions against Iran, and in New York last week five other key powers supported talks on possible new sanctions.
"China seems in principle to accept that there will be a new Security Council resolution with sanctions, otherwise we simply wouldn't have discussions on a draft," said Zhu Feng, a professor of international relations at Peking University. "But the question is what level of sanctions will be in the resolution, and that will be the focus of negotiations."
Beijing is one of five permanent members of the UN Security Council, each with the power to veto any proposed resolution. The five powers and Germany together make up the "P5+1" group that steers international talks on the Iran nuclear dispute.
US and Chinese officials who briefed reporters after the Hu-Obama talks described a positive atmosphere on Iran, which Western powers say is seeking the ability to make nuclear weapons, contravening atomic security safeguards.
Iran says its nuclear activities are for peaceful ends.
The dispute has long been a thorny one for China, which is a big oil customer of Iran and has also long been skeptical of the effectiveness of international sanctions.
Comments will be moderated. Keep comments relevant to the article. Remarks containing abusive and obscene language, personal attacks of any kind or promotion will be removed and the user banned. Final decision will be at the discretion of the Taipei Times.