'Fool of the year' goes to finance minister
Capping weeks of intense speculation on Internet discussion boards, Minister of Finance Lee Sush-der (李述德) defeated 19 other government officials to win the vote for the "Fool of the Year" award in an April Fools' poll organized by a number of non-profit organizations.
Lee collected more than 4,500 votes — 18 percent of the total — for his role in the nation's "failing tax policies and skyrocketing national debt," organizers said.
Confronted by reporters after his "win," Lee yesterday expressed gratitude, but then said he wasn't too sure what the poll meant.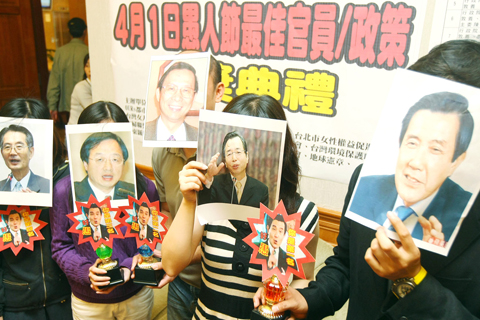 Members of civic groups hold a mock awards ceremony during a press conference at the Legislative Yuan in Taipei City yesterday.
PHOTO: CNA
The poll stated that, "Lee is seen as a proponent of the 'trickle-down' economic theory, his policies — including cutting taxes to stimulate the economy and increase tax receipts — resulted in a national debt of almost NT$500 billion [US$15.7 billion]."
Ranking a distant second and third were beleaguered Taipei County Commissioner Chou Hsi-wei (周錫瑋) and Department of Health (DOH) Minister Yaung Chih-liang (楊志良).
Chou, who tearfully announced last month that he would not be running for re-election because of faltering opinion polls, was singled out for "spending NT$160 million to immunize 20,000 school girls against cervical cancer, but then finding out that there was no more money to print information pamphlets to let their parents know about it."
More than 25,000 votes were counted in the poll, which took place between Saturday and midnight on Wednesday.
Premier Wu Den-yih (吳敦義) came in 12th for "failing to collect money owed by the Taipei City Government to the National Health Insurance system and proposing that all taxpayers help pay down [the system's] debt."
Asked for comment, Executive Yuan Spokesman Johnny Chiang (江啟臣) said the government respected different opinions as Taiwan is a free country.
 The government will accept the criticisms humbly and turn them into forward momentum for the government to make improvements, he said.
ADDITIONAL REPORTING BY SHIH HSIU-CHUAN
Comments will be moderated. Keep comments relevant to the article. Remarks containing abusive and obscene language, personal attacks of any kind or promotion will be removed and the user banned. Final decision will be at the discretion of the Taipei Times.