Taiwan arms sale moves to Congress
NO SURPRISES US President Barack Obama notified Congress of the sale. China suspended US military exchanges and imposed sanctions on US companies
US President Barack Obama officially notified US Congress on Friday that he would sell more than US$6 billion in weapons to Taiwan, but as was widely predicted, he did not include advanced F-16 fighter planes in the latest arms package.
There were no big surprises in the announcement, which the Obama administration first signaled weeks ago.
While there was no mention in the latest notification of Taiwan's request for design work on diesel-electric submarines, US defense sources said it was still under consideration.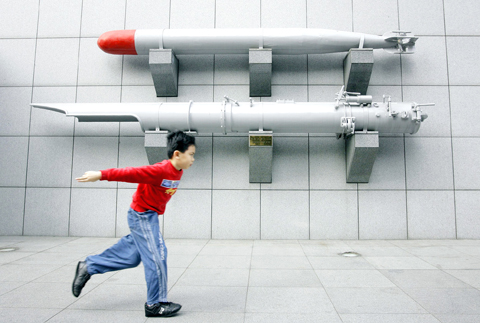 A child runs past a torpedo on display outside the Taiwan Armed Forces Museum in Taipei yesterday. The administration of US President Barack Obama notified Congress on Friday of its first proposed arms sale to Taiwan, a potential US$6.4 billion package.
PHOTO: PICHI CHUANG, REUTERS
China said yesterday it was suspending military exchanges and security talks with Washington and would impose sanctions on US firms involved in the arms deal.
The Chinese foreign ministry said in a statement that in protest at the US decision on weapons sales to Taiwan it was suspending military exchanges, along with scheduled high-level talks on strategic security, arms control and non-proliferation.
Obama is proposing five separate sales: 60 UH-60M Black Hawk helicopters, costing US$3.1 billion; 114 Patriot Advanced Capability (PAC-3) missiles, radar sets and other related equipment and services, costing US$2.81 billion; 10 RTM-84L Harpoon missiles along with 2 ATM-84L Harpoon missiles and other related equipment, costing US$37 million; 2 refurbished Osprey-class mine-hunting ships, costing US$105 million and finally 35 Multifunctional Information Distribution Systems and other related equipment, costing US$340 million.
Congress now has 30 days to comment before the sales go forward, but analysts say there is unlikely to be any serious objection.
The Associated Press said the sale satisfied parts of a US$11 billion arms package originally pledged to Taiwan by former US president George W. Bush in 2001, which has been provided in stages because of political and ­budgetary considerations in Taiwan and the US.
Rupert Hammond-Chambers, president of the US-Taiwan Business Council, said: "The Obama administration has left an urgent matter unaddressed in the form of the F-16s. In the absence of a decision on this issue, it will continue to cause tensions in the triangular relationship between the US, Taiwan and China throughout 2010."
"President Ma Ying-jeou's [馬英九] ability to continue to engage the Chinese is becoming increasingly tenuous in the face of a resurgent Democratic Progressive Party and a China playing a hedge strategy with its economic carrot and its military stick," he said. "Strong support for Taiwan strengthens both our own and Taiwan's standing with China, sends a strong signal about America's commitment to Asia, and fortifies America's core interests — peace and security in the Taiwan Strait."
That said, the US Taiwan Business Council pointed out in a three-page statement that the Black Hawk sales were particularly welcome as Taiwan's need for replacement helicopters was "acute both for military and disaster relief operations."
A senior US official speaking on the condition of anonymity, said that Taiwan's request for 66 ­­F-16­C/D fighters was still under consideration, but refused to say when a decision was likely.
He added: "We have discussed that with them [Taipei] on a variety of occasions and we're in the process of assessing Taiwan's needs and requirements for that capability."
US State Department spokesman Philip Crowley said: "This is a clear demonstration of the commitment that this administration has to provide Taiwan the defensive weapons it needs and as provided for in the Taiwan Relations Act.
"We think that this action is consistent with the US one-China policy based on three joint communiques and the Taiwan Relations Act, and contributes to maintaining security and stability across the Taiwan Strait."
Crowley said the Obama ­administration did not consult with China before deciding on the sales, but said Beijing had been informed that notification of the sales was going to Congress.
Asked if the decision not to sell F-16s was based on concerns about the Chinese reaction, Crowley said: "No. It was based on our evaluation of the defensive needs of Taiwan."
The US Taiwan Business Council expressed its concern about stacking multiple congressional notifications into groups, as well as the increased stretches of time between the notifications.
"In Taipei, US indecision undermines Taiwan's attempts to provide for its own defense and can result in unused budgeted funds that must be returned to the treasury at the end of each year," the statement said.
It added that uncertainty about the arms sales programs, their timing and content, raised doubts about US commitments to Taiwan and could lead Beijing into "miscalculations regarding American resolve in the Taiwan Strait."
The council said: "The Chinese reflexively oppose all arms sales to Taiwan, irrespective of platform or system. Consequently, the Chinese reaction to this package of notifications has been, and will likely continue to be, both broad and shrill.
"While the Chinese cannot overturn the programs that were notified today, they almost certainly believe that they can make enough of a fuss to discourage the Obama administration from making further decisions regarding arms sales to Taiwan — particularly on the possible follow-on sale of F-16s."
The Council predicts a long delay before Obama makes a final decision on the F-16 sale.
"China recognizes the tactical advantage this delay is creating and is attempting to raise the stakes in Washington in an attempt to kill consideration completely," the council said.
"If China is able — with its actions, tantrums and threats to 'spook' the Obama administration into indefinite delay, then China has achieved its goal and Taiwan's ability to control its own airspace will start to dramatically wane," it said.
Yesterday Chinese Vice Foreign Minister He Yafei (何亞非) warned US ambassador to China, Jon Huntsman, that the arms deal could jeopardize bonds with Washington.
"The United States' announcement of the planned weapons sales to Taiwan will have a seriously negative impact on many important areas of exchanges and cooperation between the two countries," He said.
He said the arms sales were "crude interference in China's domestic affairs and seriously harm China's national security," words notably tougher than Beijing's recent statements on the issue.
"This will lead to repercussions that neither side wishes to see," he said.
He urged the US to halt the planned sales.
In a later statement, China's foreign ministry said: "Cooperation between China and the US on key international and regional issue will also inevitably be affected."
"China will also implement relevant sanctions on US companies involved in the arms sales to Taiwan," it said.
ADDITIONAL REPORTING BY REUTERS AND AFP
Comments will be moderated. Keep comments relevant to the article. Remarks containing abusive and obscene language, personal attacks of any kind or promotion will be removed and the user banned. Final decision will be at the discretion of the Taipei Times.