Baghdad bombing wave kills 75, injures hundreds
A series of explosions targeting government and commercial buildings struck Baghdad yesterday, killing at least 75 people and wounding almost 400 others, Iraqi police and medical officials said.
The deadliest was a car bomb near the foreign ministry, which killed at least 59 people and wounded 250. Officials said the toll could climb as rescue workers continue to search through rubble and debris. The officials all spoke on condition of anonymity because they were not authorized to release the information.
The force of the explosion blew concrete slabs off the front of the 10-story building, shattering windows and crushing cars parked outside. Dozens of cars were burned.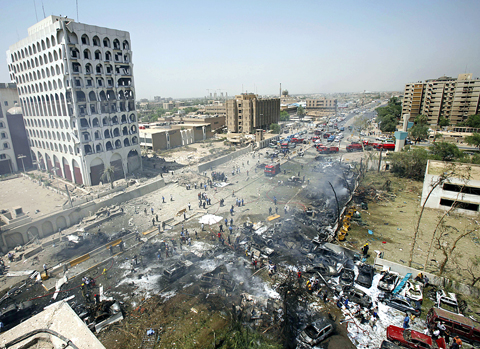 Smoke billows near the Iraqi Foreign Ministry, left, after a massive bomb attack in Baghdad yesterday. The blast was just one of a series of explosions that struck the Iraqi capital, killing at least 75 people.
PHOTO: AP
The blast was so strong it also damaged nearby buildings. A large area outside the ministry was covered by debris and broken glass and it damaged windows in the parliament building inside the nearby Green Zone.
The midmorning attacks hit first near the finance ministry in northern Baghdad and then minutes later near the foreign ministry.
Around the same time as the explosion near the foreign ministry, mortars struck inside the Green Zone. It was not immediately known what damage the mortars caused or whether there were causalities.
Another car bomb targeted a joint Iraqi police and army patrol just outside the finance ministry, killing at least eight people and wounding 22, a police official said. Twenty-two were wounded, said the official, who also spoke on condition of anonymity.
Another blast in the commercial area of western Baghdad's Baiyaa district killed two people and wounded 16, while a bombing in the commercial district of Bab al-Muadham killed six people and wounded 24, authorities said.
The bombing wave coincided with the sixth anniversary of a truck bombing on the UN compound in Baghdad that killed UN special envoy Sergio Vieira de Mello and 21 others.
Meanwhile, Iraqi and US troops seized a rocket launcher loaded with about a dozen Iranian-made rockets aimed at a US base in Basra, Iraqi officials said on Tuesday.
The US military said in a statement that Iraqi and US forces conducted a search operation on Basra's outskirts after hearing explosions near the base on Monday night. Iraqi security forces confiscated 16 rockets and arrested three suspects, the statement said.
Comments will be moderated. Keep comments relevant to the article. Remarks containing abusive and obscene language, personal attacks of any kind or promotion will be removed and the user banned. Final decision will be at the discretion of the Taipei Times.