Bill Clinton brings freed journalists home to US
PYONGYANG PARDON Laura Ling thanked Clinton and his 'supercool team' for securing their release and said they had feared they were being moved to a labor camp
Two US journalists freed by North Korea after months of detention returned home to a tearful family reunion yesterday accompanied by former US president Bill Clinton, who secured their release in a meeting with North Korean leader Kim Jong-il.
Laura Ling (凌志美), 32, and Euna Lee, 36, reporters for a US cable television venture co-founded by former US vice president Al Gore, arrived with Clinton at Burbank airport near Los Angeles aboard a private jet from North Korea.
The two Current TV journalists were arrested on March 17 for illegally crossing into the North from China and had been reporting on the trafficking of women. They were both sentenced to 12 years' 'hard labor in June.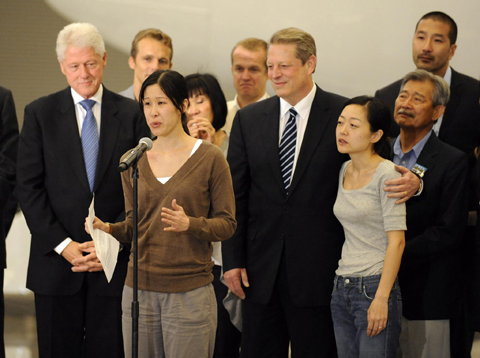 Laura Ling , in brown shirt, speaks to reporters after arriving in the US yesterday as fellow journalist Euna Lee, in grey shirt, former US vice president Al Gore, between the two women, and former US president Bill Clinton, left, listen.
PHOTO :EPA
Ling raised her arms in the air as the two women descended from the plane for a tearful reunion with their families inside the airport hangar.
Ling thanked Clinton and his "supercool team" for winning the pair's release and said she feared before seeing him she was being taken to a hard labor camp.
"Thirty hours ago Euna Lee and I were prisoners in North Korea," Ling told hundreds of reporters gathering in the hanger.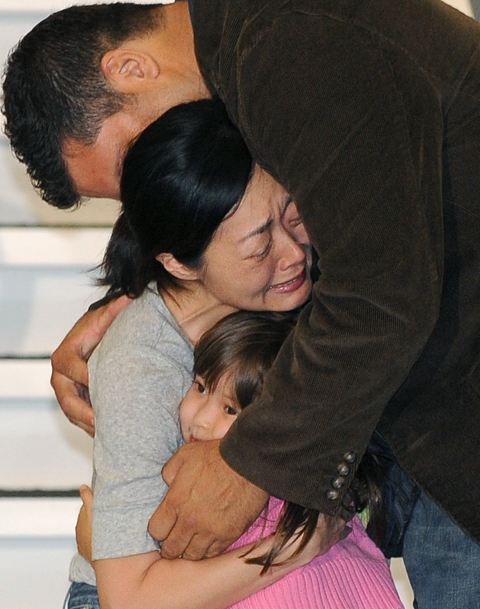 Freed journalist Euna Lee, center, embraces her husband Michael Saldate and daughter Hannah after being released from North Korea with fellow journalist Laura Ling, at the Bob Hope Airport in Burbank, California, yesterday.
PHOTO : AFP
"We feared that at any moment we could be sent to a hard labor camp and then suddenly we were told that we were going to a meeting. We were taken to a location and when we walked through the doors, we saw standing before us president Bill Clinton."
"We knew the nightmare of our lives was finally coming to an end," she said.
Ling thanked all those, known and unknown, who had campaigned for their release: "We could feel your love all the way in North Korea. It is what kept us going in the darkest hours."
Clinton was received with a round of applause and an embrace from Gore.
In Washington, US President Barack Obama said he was "extraordinarily relieved" at Lee and Ling's return. He said he had already spoken to Clinton.
"I want to thank President Bill Clinton — I had a chance to talk to him — for the extraordinary humanitarian effort that resulted in the release of the two journalists," Obama said.
US officials said North Korea was not promised any rewards for their release and there was no link to nuclear non-proliferation talks.
Clinton's wife, US Secretary of State Hillary Clinton, told reporters in Nairobi, Kenya, she was happy and relieved. She added that there was no connection between the effort to free the two journalists and the thorny nuclear issue.
"We have always considered that a totally separate issue from our efforts to re-engage the North Koreans and have them return to the six-party talks and work for a commitment for the full, verifiable denuclearization of the Korean Peninsula," she said. "The future of our relationships with the North Koreans is really up to them. They have a choice."
A US official said Bill Clinton talked to North Korea's leadership about the "positive things that could flow" from freeing the two women.
"President Clinton had made clear that this was a purely private humanitarian mission," the US official told reporters in Washington after Kim granted the journalists a pardon.
Also See: Families 'overjoyed' at two journalists' release
Comments will be moderated. Keep comments relevant to the article. Remarks containing abusive and obscene language, personal attacks of any kind or promotion will be removed and the user banned. Final decision will be at the discretion of the Taipei Times.