Hoklo-speaking diplomat aims for realistic PRC ties
'PERSONALLY INVESTED': Obama's pick as the next US ambassador to Beijing learned to speak fluent Hoklo and Mandarin while he lived in Taiwan as a missionary
US President Barack Obama's nominee to be ambassador to China promised on Thursday to bring a "hard-headed realist" approach to relations and said he felt personally invested in the fate of Taiwan.
Utah Governor Jon Huntsman, who is fluent in Mandarin and Hoklo, told the Senate Foreign Relations Committee that the sometimes difficult 30-year diplomatic relationship was in "an exceptionally exciting time."
"But I also am a hard-headed realist about what it's going to take to manage this relationship or being part of that team in circumnavigating the challenges ahead," said Huntsman, 49, who is expected to win easy confirmation.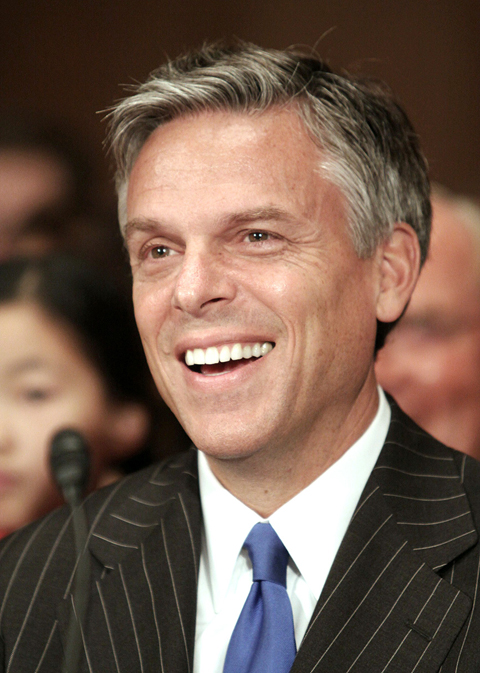 US ambassador-nominee to China Jon Huntsman smiles on Capitol Hill in Washington on Thursday during his confirmation hearing before the Senate Foreign Relations Committee.
PHOTO: AP
The governor, who had been floated as a possible 2012 Republican challenger to Obama, said he would work to improve Sino-US economic and military relations and bolster cooperation on issues such as climate change and North Korea.
"We need to continue working closely with China to convince North Korea to abandon its nuclear weapons program," Huntsman said, just hours after Pyongyang declared denuclearization talks dead.
However, Huntsman named Taiwan, human rights and Tibet among the "areas where we have differences with China" and vowed "robust engagement" on human rights if confirmed.
The governor, who lived in Taiwan as a Mormon missionary, said he felt "personally invested in the peaceful resolution of cross-strait differences, in a way that respects the wishes of the people on both Taiwan and the mainland."
He said that current US policy "supports this objective, and I have been encouraged by the recent relaxing of cross-strait tensions."
The governor received warm praise from senators of both parties, and the committee was expected to refer his nomination to the full Senate quickly for confirmation before lawmakers leave for a month-long recess on Aug. 7.
Relations between Washington and Beijing have taken on rising importance in the last decade as China has embraced its role as a leading global economy and has pushed for regional security amid tense standoffs with North Korea.
Asked about persistent US complaints that China's currency is artificially cheap, giving its exports a boost, Huntsman said Beijing had made progress on trade imbalances and on the value of its money.
"It is our every hope and desire and, indeed, our intent at the negotiating table to ensure that progress is made in this particular area," the governor said.
He also said he hoped that Beijing would curb arms sales to conflict-ravaged areas of Africa and urged China to "work with us to address governance and development concerns in places like Sudan, Burma [Myanmar] and Zimbabwe."
There were moments of levity, too, as when Huntsman acknowledged senators' praise and declared: "I hope I do as well at my funeral. I'm not sure that I will."
The Utah governor, a former ambassador to Singapore, noted that he had two adopted daughters, one from China and one from India, and quipped: "Happily, no border disputes yet surrounding their bedrooms."
Comments will be moderated. Keep comments relevant to the article. Remarks containing abusive and obscene language, personal attacks of any kind or promotion will be removed and the user banned. Final decision will be at the discretion of the Taipei Times.