Italian Red Cross worker released in the Philippines
SIX-MONTH ORDEAL A tired and thin Eugenio Vagni said he had been treated well by his captors but he constantly feared that he would be beheaded
Al-Qaeda-linked militants freed an Italian Red Cross worker yesterday from six months of jungle captivity in the southern Philippines after a government negotiator agreed to release two arrested wives of the kidnappers' leader, officials said.
Eugenio Vagni, 62, said he was treated well by his captors but constantly feared being beheaded. Abu Sayyaf gunmen handed him over to a provincial vice governor shortly after midnight near Maimbung township on southern Jolo Island, officials said.
Vagni appeared to be in good health, but tired and thinner. He embraced military officers at a Jolo military camp, muttering "Thank you" repeatedly, marine Colonel Eugenio Clemen said.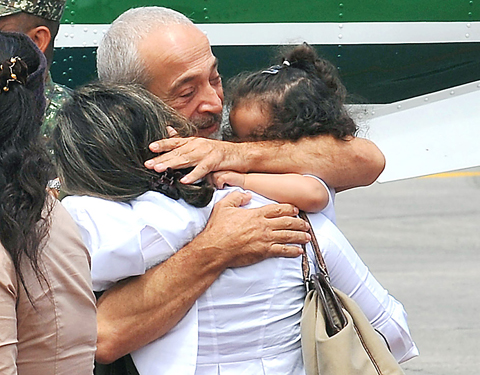 Freed Italian Red Cross worker Eugenio Vagni hugs his wife Kwan, left, and their daughter Leticia shortly after arriving at a military airbase in Manila yesterday from Zamboanga after his release.
PHOTO: AFP
He was later flown back to Manila, where he was reunited with family and friends.
Vagni lost about 20kg during his ordeal. He said was fed mostly rice and fish by his captors, who treated him well, calling him Apo, a local term of respect for the elderly. The militants helped treat his cholera and carried his backpack when he got tired, but that did not ease his constant fear of being beheaded.
Vagni told ABS-CBN network that he often imagined seeing "my head in a big basket."
TV footage showed Vagni, who has grown a beard, smiling and waving to well-wishers.
"I'm very elated that the ordeal is over for Vagni," said Senator Richard Gordon, who heads the Philippine Red Cross. "It's been six months of constant fear of gunbattles, of being ordered around, of being held away from his wife and children."
Vagni's brother, Francesco, told reporters in Italy that "there were moments that I believed he would never come back."
The two brothers spoke by phone, ANSA reported.
The aid worker, who suffers from hypertension and a hernia, was kidnapped along with two Red Cross colleagues after inspecting a Jolo jail water project on Jan. 15.
The Swiss and the Filipino hostages had been freed earlier, but the Abu Sayyaf held on to Vagni for months, entering into on-and-off negotiations for his release while government troops tried to rescue him.
Italian Foreign Minister Franco Frattini said in an interview with Italian state TV that no ransom had been paid for Vagni's release.
But the government negotiator, Sulu Vice Governor Lady Ann Sahidulla, said she gave 50,000 pesos (US$1,042) to the militants "for cigarettes."
She said she agreed to release two arrested wives of Abu Sayyaf commander Albader Parad, handing one of them to him personally yesterday, because there was no evidence linking them to any crime.
The military arrested the women last week on suspicion they were supporting the Abu Sayyaf.
Sahidullah said it was not a "prisoner swap," adding that one of the wives helped her persuade Parad to free Vagni, telling him many militants and troops had died due to the abductions.
"Skillful negotiations and incessant pressure by relentless operations ... won the release of Vagni," Philippine marine spokesman Lieutenant Colonel Edgard Arevalo said.
He said offensives against the Abu Sayyaf will continue in Jolo.
The Abu Sayyaf, which has about 400 fighters, is on the US list of terrorist organizations because of its bombings, ransom kidnappings and beheadings of hostages, which have rattled the southern Philippines for decades. The group is suspected of receiving funds and training from al-Qaeda.
During a meeting with Philippine President Gloria Macapagal Arroyo in Manila, CIA Director Leon Panetta said he was satisfied with the campaign waged jointly by Washington and Manila against terrorists, Arroyo's security adviser Norberto Gonzales said yesterday.
Comments will be moderated. Keep comments relevant to the article. Remarks containing abusive and obscene language, personal attacks of any kind or promotion will be removed and the user banned. Final decision will be at the discretion of the Taipei Times.