Taiwanese vent anger at Ma policies
ONE VOICE Very few incidents were reported at the rallies, but two protesters in their sixties remained in the ER last night after being run over by a police car
Shouting slogans and holding up banners and placards, tens of thousands of protesters yesterday afternoon packed arterial streets in Taipei and Kaohsiung to vent their anger at President Ma Ying-jeou's (馬英九) China-friendly policies, which they say have compromised Taiwan's sovereignty.
"Say No to China! Say Yes to Taiwan!" "One China market, Go Away!" protesters young and old shouted as they marched and pumped their fists in the air.
Some wore yellow headbands reading "Don't Lean Toward China, Safeguard Sovereignty!" and "We want a referendum on the ECFA [economic cooperation framework agreement]." Others wore T-shirts that accused Ma of "selling Taiwan" to China and carried props portraying Ma as a devil.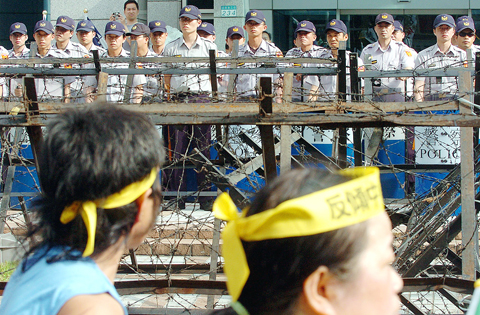 Police monitor an anti-government protest as it passes by Chinese Nationalist Party (KMT) headquarters on Bade Road in Taipei yesterday.
PHOTO: CHANG CHIA-MING, TAIPEI TIMES
Since Ma's inauguration on May 20 last year, the two sides of the Taiwan Strait have held three rounds of talks and signed a series of agreements that led to regular direct flights across the Strait and an influx of Chinese tourists.
Ma said the flow of Chinese visitors to Taiwan — from a mere trickle to more than 3,000 a day — has helped Taiwan's sagging economy.
While some have welcomed the economic gains and easing of cross-strait tensions, others worry that Taiwan is moving too close to China because Beijing's ultimate goal is the unification of Taiwan with China.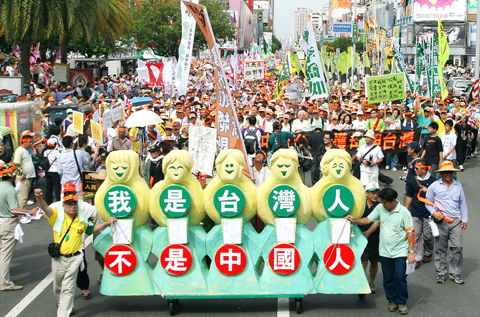 Demonstrators in yesterday's rally in Kaohsiung City organized by the Democratic Progressive Party follow a float with the text "I am Taiwanese, not Chinese."
PHOTO: CHANG CHUNG-YI, TAIPEI TIMES
"Taiwan and China are different countries and can't be united," said Wang Chia-ping, 32, who traveled six hours from the south to take part in the rally in Taipei.
Some demonstrators accused Ma of not being transparent about Taiwan's relations with Beijing and others said he has mishandled the economy, with the unemployment rate now at a record-high of 5.8 percent, while exports have fallen sharply amid the global recession.
"I'm out of work. We don't have jobs. We're unemployed," 55-year-old protester Chen Chung-hua said. "So what are we going to do?"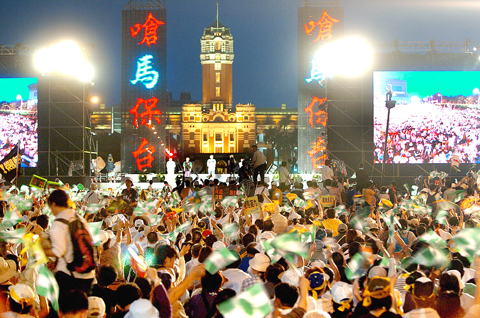 Protesters gather in front of the Presidential Office after yesterday's anti-government protest, which was to be followed by a 24-hour sit-in protest.
PHOTO: FANG PIN-CHAO, TAIPEI TIMES
In Taipei, protesters began marching at 3pm from four different rallying points — Wanhua Train Station in Wanhua District (萬華), the main entrance at National Taiwan University, the Dinghao Square on Zhongxiao E Road and the Zhongshan Soccer Stadium — before converging on Ketagalan Boulevard.
As Democratic Progressive Party (DPP) Chairperson Tsai Ing-wen (蔡英文) led a group of protesters by the Ministry of Economic Affairs building, they released black balloons representing their opposition to the introduction of Chinese "black-hearted" products in Taiwan.
Another group, led by former vice president Annette Lu (呂秀蓮), beat a huge balloon horse — wearing the red Chinese flag — with plastic baseball bats as they walked by Chinese Nationalist Party (KMT) headquarters on Bade Road.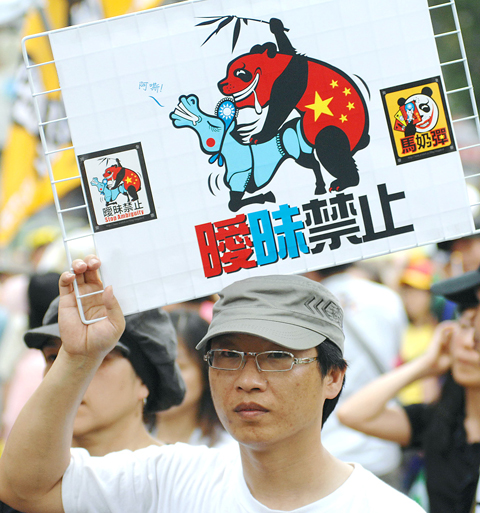 A man holds a placard reading "No dubious relationship [with China]" during yesterday's rally in Taipei against President Ma Ying-jeou's China-friendly policies.
PHOTO: PATRICK LIN, AFP
The third group, led by former premier Frank Hsieh (謝長廷), threw paper planes as they walked by the Council of Labor Affairs building, a symbol of rising unemployment.
The fourth group, led by former premier Su Tseng-chang (蘇貞昌), dumped Chinese agricultural products from a trunk in front of the Council of Agriculture to express public anger over the impact of Chinese "black-hearted" products on Taiwan's agricultural sector.
"We are here to say no to Ma Ying-jeou," Tsai addressed the crowd from the stage set up in front of the Presidential Office after the groups assembled on Ketagalan Boulevard. "Ma gambles away Taiwan's sovereignty in exchange for short-term economic interests from China … We will not allow Taiwan's destiny and future to be decided by China."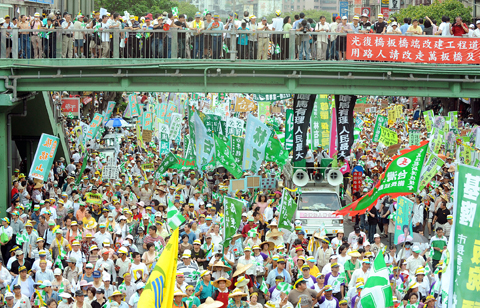 One of the four sections in yesterday's demonstration in Taipei passes under an overpass on its way to Ketagalan Boulevard.
PHOTO: WANG YI-SUNG, TAIPEI TIMES
Tsai has warned that yesterday's march was the start of a series of protests against Ma and said the DPP did not rule out seeking to impeach the president.
At nightfall, the event organizer projected a laser display of the Chinese characters for "incompetence" (無能) onto the Presidential Office building.
After the protest, demonstrators planned an overnight sit-in in front of the Presidential Office to protest against the government's proposed amendments to the Assembly and Parade Act (集會遊行法), which the DPP says would expand the police's ability to restrict people's right of assembly and was a sign that the government was returning to the authoritarian period.
No major disturbances were reported during the rally in Taipei.
Around 2pm, however, a middle-aged man wearing a black vest and a mask that said "Beat down [former president] Chen Shui-bian (陳水扁), fight the DPP," clashed with demonstrators on Ketagalan Boulevard. The man held a wooden stick in his hand.
Demonstrators said the man was acting in a provocative manner.
After some pushing and shoving, members of the DPP's "rally guards" pulled the man away from the demonstrators. The man was quickly escorted away by police.
At about 7:30pm, two protesters leaving Ketagalan Boulevard were struck by a police car and seriously injured. The accident sparked anger among nearby demonstrators, who surrounded the vehicle and shouted at the officers inside.
At press time the two men, one 67 years old and the other 68, were still being treated at hospital.
National Police Agency (NPA) Director-General Wang Cho-chiun (王卓鈞) later said the officer behind the wheel had been driving fast and had failed to see the men because of poor nighttime visibility.
Wang said the Taipei Police Department had mobilized about 2,000 officers, with 1,800 in reserve.
In Kaohsiung, about 800 police were sent to maintain order, with 1,100 officers on standby.
The NPA had set up a central command center to monitor developments at both rallies.
National Security Bureau Director Tsai Der-sheng (蔡得勝) said police had been instructed to handle protestors "gently," adding that this did not mean that they would tolerate violent behavior.
"Handling [protesters] gently does not mean taking no action," he said at the command center.
The NPA said it had assumed control of security cameras around the Presidential Office, on Ketagalan Boulevard and at Jingfu Gate to monitor the situation.
In response to widespread criticism that the barricades and barbed wire erected by police around the 228 Peace Memorial Park and the Presidential Office were unethical and reminiscent of the Martial Law era, Wang said the razor blades on the wires had been blunted by pouring a thick layer of asphalt on them.
All barbed wires and barricades were surrounded by yellow police gauze to warn demonstrators to stay away from the dangerous objects, he said.
"Barbed wire would not be used as a first line of defense," he said.
The DPP yesterday estimated that more than 600,000 people took part in the rally.
Taipei Mayor Hau Lung-bin (郝龍斌), however, told a press conference yesterday afternoon that about 10,000 marchers had been in each parade route, for an estimated total of 40,000.
The Taipei City Police Department did not offer an explanation for the difference, saying the numbers were a rough calculation based on the average number of people per square meter.
In Kaohsiung, the protesters started at four departure points at 3pm and marched through different parts of the city before assembling at the Central Park.
A woman surnamed Shih (施) said she felt very sad to have to join the rally.
"I participated in many demonstrations about 20 years ago when I was in my 20s to demand democratic reforms," Shih said. "Now I'm almost 50 and I feel quite sad that I have to take to the streets again because our hard-earned democracy, freedoms and human rights seem to be under threat."
Huang Man-ting (黃曼婷), a university student who came from Taipei to join the demonstration in Kaohsiung, saw a smaller police presence in the southern city.
"I always felt that I was closely watched when I took part in demonstrations in Taipei, but I feel more at ease in Kaohsiung," Huang said. "I think the difference shows that the officials in Taipei have the wrong idea about demonstrators — they view demonstrators as potential criminals."
Although the rally in Kaohsiung went smoothly for the most part, minor incidents were reported.
A man surnamed Kuo (郭), who appeared to be drunk, walked up to one of the trucks that served as command centers, took the microphone and said he wanted to sing.
Although he was quickly taken away by demonstration staffers, some protesters who suspected he was there to disrupt the rally started pushing him around. The altercation was soon resolved and police officers took Kuo away.
Many of the demonstrators traveled to Taipei after the rally in Kaohsiung to join the sit-in protest on Ketagalan Bloulevard.
The organizer said that more than 200,000 people took part in the demonstration in Kaohsiung. However, Kaohsiung police put the number at 30,000.
ADDITIONAL REPORTING BY MEGGIE LU
Comments will be moderated. Keep comments relevant to the article. Remarks containing abusive and obscene language, personal attacks of any kind or promotion will be removed and the user banned. Final decision will be at the discretion of the Taipei Times.