Exports dip to lowest in seven years
DISAPPOINTING Outbound shipments last month fell 23.3 percent from a year ago, with exports to major markets except Japan posting double-digit declines
Taiwanese exports plunged to a seven-year low last month, with shipments to all major trade partners except Japan suffering sizable contractions as the nation's export-dependent economy was hit hard by the global slowdown, the Ministry of Finance said yesterday.
"Custom-cleared exports fell 23.3 percent, or US$5.09 billion, to US$16.78 billion in November from a year ago," Lin Lee-jen (林麗貞), head of the ministry's statistics department, told a media briefing yesterday afternoon.
It was the third straight month that overseas shipments contracted, posting their sharpest decline since October 2001, Lin said.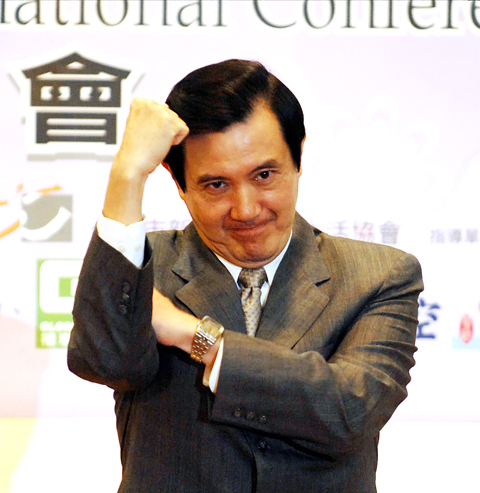 President Ma Ying-jeou greets participants using sign language at the Proud to be Myself —Citizen Rights of Persons with Disabilities International Conference in Taipei yesterday. Ma's political fortunes are increasingly turning on the performance of the economy and trade in particular.
PHOTO: CNA
Similarly, imports fell 13.2 percent, or US$2.32 billion, to US$15.26 billion, the biggest drop since March 2002, leaving a trade surplus of US$1.52 billion, the ministry report said.
Lin pinned the blame of falling trade on the global slowdown that is plaguing the US and Europe and weakening demand for Taiwanese consumer electronic and communications products.
Exports to China, including Hong Kong, which accounted for about 40 percent of the nation's shipments, contracted by a record 38.5 percent, or US$3.53 billion, to US$5.63 billion from last year, the report showed.
Shipments to the US, the nation's second-largest trade partner, fell 14.2 percent, or US$390 million, to US$2.38 billion, the report said.
Shipments to Europe and emerging markets in Asia decreased 9.8 percent and 19.4 percent to US$2.22 billion and US$2.6 billion respectively, the report showed.
Exports to Japan bucked the trend, gaining 19.2 percent year-on-year last month to US$1.5 billion, Lin said, attributing the increase to a stronger yen.
Lin said the figures were disappointing and the trend would persist in the months ahead. The Directorate-General of Budget, Accounting and Statistics forecast on Nov. 20 that exports would likely decline in the first three quarters of next year.
Cumulative exports in the first 11 months of this year stood at US$242.02 billion, up 8.4 percent from last year, while imports grew 15.7 percent to US$229.08 billion, leaving a trade surplus of US$12.94 billion, down 48.7 percent from a year ago, the report showed.
Cheng Cheng-mount (鄭貞茂), chief economist at Citigroup Inc Taiwan, said the latest export data was worse than expected and would drag down the nation's economic showing in the last quarter.
"Citigroup expected exports to drop 9.8 percent and imports to fall 9 percent last month," Cheng said by telephone. "The outcome spells greater downside risks for Taiwan, with the outlook more bearish in the months to come."
To halt the trend, Cheng said the central bank could cut interest rates by 50 basis points and adopt other loose monetary measures in its board meeting on Thursday.
Tony Phoo (符銘財), chief economist of Standard Chartered Bank, shared the pessimistic sentiment, saying it would be difficult for export orders to pick up in the first half of next year.
Phoo also voiced concern about the weakening trade surplus and shrinking shipments to China.
"The trade surplus for the first 11 months is too low," Phoo said by telephone. "I'm surprised it failed to exceed US$2 billion."
Phoo expects the central bank to cut interest rates by 25 basis points to stimulate the economy.
Comments will be moderated. Keep comments relevant to the article. Remarks containing abusive and obscene language, personal attacks of any kind or promotion will be removed and the user banned. Final decision will be at the discretion of the Taipei Times.