Chen Shui-bian rushed to hospital for checkup
STILL NOT EATING Complaining of chest pains and soreness while refusing medication, the former president was taken to Far Eastern Memorial Hospital last night
Former president Chen Shui-bian (陳水扁) was taken to hospital yesterday for a check-up and possible force-feeding as he refused to eat for the fifth day since he was detained on Wednesday.
Lee Da-chu (李大竹), deputy head at the Taipei Detention Center in Tucheng (土城), Taipei County, where Chen is being held, said that Chen had complained about discomfort in his chest and soreness, adding that the former president's blood pressure and pulse were near the lower margin of safety.
Doctors said his electrocardiogram was abnormal and that a check-up was necessary.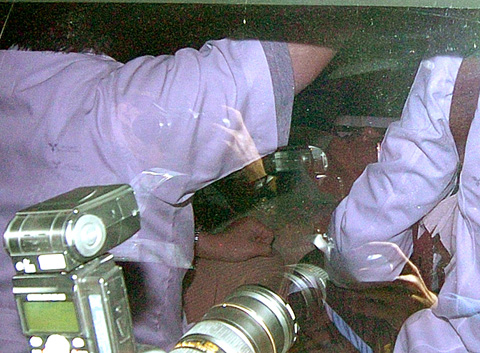 The ambulance transporting former president Chen Shui-bian arrives at the Far Eastern Memorial Hospital in Banciao, Taipei County, last night. Inset: Chen is pictured as he is being taken from the ambulance to the hospital.
PHOTO: LIU HSIN-DE, TAIPEI TIMES
Lee said doctors at the center had prescribed drugs but that Chen had refused to take them.
He said Chen had also been vomiting liquid as a result of an empty stomach.
TV footage showed Chen being rushed to Far Eastern Memorial Hospital in Banciao (板橋), Taipei County, in an ambulance at about 8pm.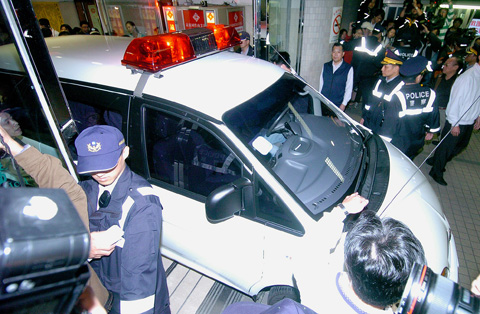 PHOTO: LIU HSIN-DE, TAIPEI TIMES
Rather than carrying Chen on a stretcher, the ambulance backed into the emergency room and let Chen get out.
The hospital said Chen would be spending the night.
Chen, who is suspected of money laundering, taking bribes, forgery and embezzling NT$15 million (US$450,000) during his two terms in office, has been held incommunicado without charge.
He has accused the Chinese Nationalist Party (KMT) administration of "political persecution" and waging a "political vendetta" against him to curry favor with Beijing.
Denying any wrongdoing, Chen yesterday continued to push away food trays in protest against what he describes as judicial injustice.
Supporters were chanting "A-bian [Chen's nickname], jiayou" outside the hospital, while more than 100 police officers were deployed to maintain order.
Meanwhile, hundreds of supporters of the former president yesterday continued rallying outside the detention center protesting Chen's detention and chanting "Release! Release!"
Tucheng police were deployed to the site to control the crowd. No incidents were reported.
At a separate setting yesterday, former president Lee Teng-hui (李登輝) declined to comment on Chen's fast. Lee has dismissed Chen's remarks about "political persecution" and "judicial persecution," saying: "Chen should not shift the blame on the rest of the world. He's the one who made a mistake."
Meanwhile, Chiayi County Commissioner Chen Ming-wen (陳明文) of the Democratic Progressive Party (DPP) yesterday continued his hunger strike to protest accusations of corruption against him.
He was taken into custody on Oct. 28 on suspicion of engaging in graft by leaking confidential information to help a businessman win a tender worth more than NT$650 million. He has been on a hunger strike since last Tuesday.
Supporters of Chen Ming-men yesterday also continued their rallies outside the Chiayi Detention Center where he is being held.
Tainan County Commissioner Su Huan-chih (蘇煥智), Kaohsiung County Commissioner Yang Chiu-hsing (楊秋興), Pingtung County Commissioner Tsao Chi-hung (曹啟鴻), all DPP members, showed their support for Chen Ming-wen by joining the supporters.
ADDITIONAL REPORTING BY SHELLEY HUANG AND RICH CHANG
Comments will be moderated. Keep comments relevant to the article. Remarks containing abusive and obscene language, personal attacks of any kind or promotion will be removed and the user banned. Final decision will be at the discretion of the Taipei Times.