Price hikes plan fuels rush to fill tanks
SAFETY CONCERNS The premier said the government decided to announce the hikes five days early because of fears that more people would try to stockpile supplies
Lines formed at gasoline stations nationwide last night after Premier Liu Chao-shiuan (劉兆玄) announced that state-run CPC Corp, Taiwan (中國石油) would raise gasoline prices by NT$6.5 per liter and premium grade diesel fuel prices by NT$7.2 per liter effective from midnight, five days ahead of time.
To help cushion the impact of the first price rise in six months on the public, the government and the CPC would each absorb 20 percent of the planned hikes, while consumers would bear 60 percent, Liu, flanked by economic officials, told a press conference yesterday afternoon.
With the price adjustments, consumers will pay NT$3.9 more per liter for unleaded gasoline and NT$4.4 more per liter for premium grade diesel fuel.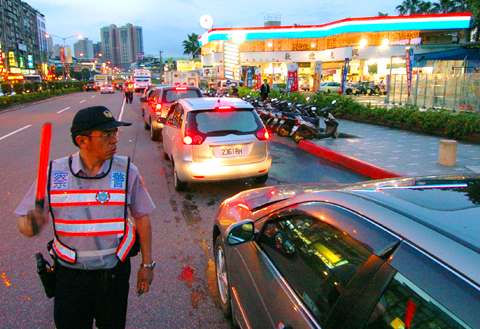 A policeman directs traffic at a Taipei gas station yesterday afternoon as drivers rush to fill their tanks following the Cabinet's announcement that it would raise fuel prices at midnight last night. Unleaded 92 octane gas was set to rise by NT$3.9 per liter, while the price for diesel was to go up by NT$4.4 per liter.
PHOTO: LIAO CHEN-HUI, TAIPEI TIMES
CPC's retail price per liter for 92-octane unleaded gasoline is now NT$ 33.90, while 95-octane unleaded gasoline is NT$34.60, 98-octane unleaded gasoline is NT$36.10 and premium diesel oil is NT$31.90.
Gas prices were frozen by the former Democratic Progressive Party government last December, while global crude oil prices have risen by approximately 43 percent between last October and May 20.
The price of fuel oil was also raised from NT$14,708 to NT$18,208 per 1,000 liters, while liquefied petroleum gas rose from NT$36 to NT$39.90 per kilogram and natural gas has increased from NT$12.39 per cubic meter to NT$16.24.
Electricity rates will go up when the summer electricity rate takes effect from July to October, and prices will be adjusted again in November, the premier said.
"The size of the hikes merely reflects the increase in procurement costs due to the surge in international crude oil prices," Liu said.
"The prices were not raised to compensate for the huge losses caused by the price freeze to CPC and Taiwan Power Co (台電)" he said.
The DPP's price freeze policy had consequences, the Chinese Nationalist Party (KMT) administration said at its first Cabinet meeting last week, before announcing that the government would raise prices of oil and electricity on June 2 and July 1 respectively.
The planned hikes had prompted some consumers and gas stations to stockpile gasoline.
Prosecutors on Monday found 500,000 liters of illegally stockpiled oil in a gas station in Taichung.
Concern about stockpiling — and the resulting risks to public safety — prompted the government's move yesterday.
"We decided to advance the date of adjusting gasoline prices for security concerns as gasoline kept in unsafe facilities could be very dangerous," Liu said.
The oil price adjustments yesterday will remain in effect until the end of next month.
"Starting in July, we will adjust oil prices on the first day of each month as usual," Liu said.
The premier said the government will not impose another price freeze but would "let the market determine the price."
"However, the 40 percent subsidy [for oil prices] from the government and the CPC will remain unchanged even though the market mechanism is restored," Liu said.
The government plans to pay for the subsidy through a reduction in the excise tax.
The excise tax on unleaded gasoline will be cut by 19.1 percent, officials said.
The excise tax on diesel fuel will be cut by 35 percent.
Liu said that the government will spend NT$2.83 billion throughout the rest of the year to help economically disadvantaged people with health insurance and education, among others things.
The increased cost of mass transportation and part of the increase to taxi costs will be subsidized by the government, Liu said.
The government expected the hikes will result in an increase of 0.7 percent in the Consumer Price Index (CPI) this year, to 3.08 percent.
The hike in fuel and electricity costs will negatively influence economic growth, but the government said that an increase of 0.5 percent to 0.7 percent in annual economic growth is expected because it has proposed some other proposals to offset the negative impact.
In an interview with ETTV last night, Liu apologized for advancing the date of the hikes.
Democratic Progressive Party (DPP) legislators yesterday criticized the price hikes, saying the new government kept making the same mistake of giving advance notice of a price surge.
DPP Legislator Kuan Bi-ling (管碧玲) said Liu seemed at a loss about what to do regarding utility fees.
Liu may be the first premier in the country's history to announce a three-stage fuel price hike — the first stage took effect at midnight, the second will happen in July and the third will soon follow afterwards, she said.
She also accused Minister of Economic Affairs Yiin Chii-ming (尹啟銘) of misleading the public, saying even an elementary-school student would know that commodity prices should be compared with national income.
Taking the 92 unleaded petroleum as an example, Kuan said the price in Singapore was 1.38 times more than that in Taiwan, but Singapore's national income was 2.09 times that of Taiwan.
DPP Legislator William Lai (賴清德) said he would like to see the government map out a plan to calm public anticipation for price increases and curb the artificial ramping-up of prices to prevent inflation getting out of hand.
Chinese Nationalist Party (KMT) Legislator Chiang Lien-fu (江連福) slammed CPC Corp, Taiwan (中油) over its recent increase in the price of engine oil.
Chiang said the company had "quietly" increased the prices of 12 of its gear lubricants last Monday.
Machine oil for tractors went up by 30 percent while automobile lubricants had increased by 24 percent, placing a huge burden on farmers and economically disadvantaged families, Chiang said.
He accused the company of planning to hike the prices again on Sunday, the date originally announced for gasoline price hikes.
However, Yen Chen (閻澄), a chief officer of CPC's lubricant product department, said the company decided to raise prices last week because the cost of raw materials had risen by 30 percent as of this month.
Yen said engine lubricant prices might go up again next month, but he promised that the company would evaluate all possibilities. Meanwhile, CPC vice president Chu Shao-hua (朱少華), who was also at the conference, said the company did not have the power to ban consumers from storing gasoline.
ADDITIONAL REPORTING BY CNA
Also See: Ministry steps up efforts to curb gasoline hoarding
Also See: AmCham urges speedy deregulation
Comments will be moderated. Keep comments relevant to the article. Remarks containing abusive and obscene language, personal attacks of any kind or promotion will be removed and the user banned. Final decision will be at the discretion of the Taipei Times.