Arroyo addresses the nation, vows to combat poverty
Philippine President Gloria Macapagal Arroyo yesterday used one of the most stable periods of her troubled tenure to tout her government's economic successes and promise the impatient poor that they will benefit soon.
Making her seventh annual State of the Nation address as at least 3,000 protesters swarmed near the House of Representatives complex in suburban Quezon City, Arroyo told a joint session of Congress that she hopes the Philippines can join the ranks of wealthy nations in 20 years.
"By then, poverty shall have been marginalized and the marginalized raised to a robust middle-class," Arroyo said. "We will achieve the hallmarks of a modern society where institutions are strong. By 2010, the Philippines should be well on its way to achieving that vision."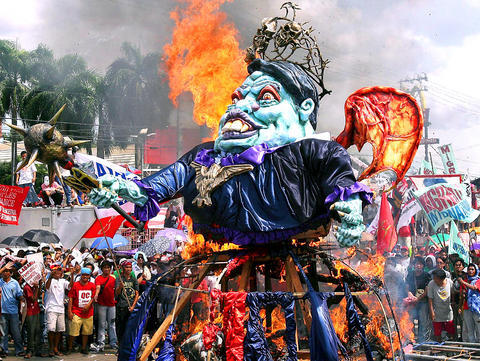 Protesters burn an effigy mocking President Gloria Macapagal-Arroyo during a demonstration in Metro Manila's Quezon City, Philippines, yesterday.
PHOTO: EPA
Arroyo has gone from crisis to crisis, fending off at least three coup attempts and two impeachment efforts since taking office during the country's second "people power" revolt in January 2001.
But midterm elections quashed the opposition's hopes of initiating another impeachment effort, leaving her with no likely legal challenges until her term ends in 2010.
This did not mean clear sailing, though. Coup rumors are always bubbling and Congress is divided, with Arroyo backers ruling the House and the opposition increasing its advantage in the Senate.
Showcasing the rowdy politics that have hounded her rule, the new House -- meeting for the first time -- engaged in hours of tense verbal tussles to elect a speaker. Jose de Venecia eventually won a record fifth term.
Decrying Arroyo for alleged human rights abuses, the protesters burned a 4m effigy of her as a winged witch. A large contingent of police and troops ensured they stayed well away from the House.
Arroyo promised record levels of funding over the next three years for infrastructure projects to increase business confidence, efforts to crush terrorism and bring peace to the troubled Mindanao region, and a stronger and wider social safety net that includes better education, cheap medicines and affordable housing.
Economists credit Arroyo with crucial fiscal reforms to hike revenues, reduce the budget deficit and tame inflation while inviting more foreign investment. But critics say growth has not alleviated poverty or significantly reduced unemployment.
Also see story:
Philippines warns Muslim guerrillas it will crush attacks
Comments will be moderated. Keep comments relevant to the article. Remarks containing abusive and obscene language, personal attacks of any kind or promotion will be removed and the user banned. Final decision will be at the discretion of the Taipei Times.