N Korean reactor expected to close soon: negotiators
South Korean and US negotiators said yesterday they expect North Korea to start closing down its nuclear reactor within weeks as the first step in a promised disarmament program.
North Korea announced on Saturday it had invited an International Atomic Energy Agency (IAEA) team to discuss a shutdown, saying a banking dispute which had blocked progress on a February disarmament pact was almost over.
The announcement raised hopes of a breakthrough after four months of negotiations to resolve a row over millions of US dollars in North Korean funds, which were frozen at Macau's Banco Delta Asia in 2005 under US sanctions.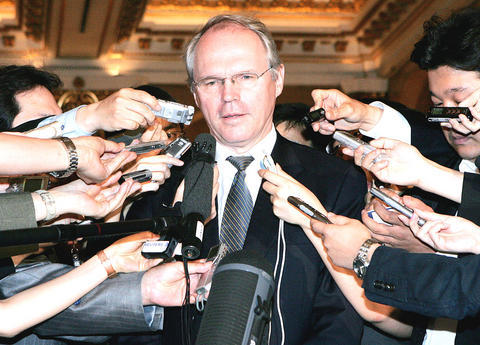 US Assistant Secretary of State Christopher Hill talks to the media before a meeting with his South Korean counterpart Chun Yung-woo in Seoul yesterday.
PHOTO: AP
"In the next two or three weeks, I hope, the IAEA monitoring and verification team will visit North Korea and begin to shut down its nuclear reactor," said Chun Yung-woo, South Korea's chief nuclear negotiator.
His US counterpart, Christopher Hill, was also optimistic about the prospects for closing the Yongbyon reactor, the source of raw material for weapons-grade plutonium.
"Our sense is that we will be down to a matter of weeks," he told reporters in Beijing after talks with Chinese nuclear envoy Wu Dawei (武大偉).
Russia's Interfax news agency quoted a North Korean diplomat as saying that the reactor would be sealed in the second half of next month.
"According to our specialists, halting the reactor technically requires about a month. Hence we expect to seal it, in accordance with agreements achieved during six-party talks, in the second half of July 2007," the agency quoted the unidentified diplomat as saying.
North Korea has not yet acknowledged receipt of more than US$20 million being transferred from Banco Delta Asia bank to its account at a Russian bank.
Hill said he had not received confirmation that the money had been returned to North Korea.
However, he said "our understanding is that the matter has been resolved."
The IAEA board is expected to meet, possibly on July 9, to authorize inspections. Yongbyon is thought to be the North's only operating reactor.
Hill travelled to Seoul later yesterday.
"Let's hope that they [inspectors] can get there very soon and begin this process because we've lost a lot of time over this banking issue," he told reporters at Seoul's Incheon airport.
Comments will be moderated. Keep comments relevant to the article. Remarks containing abusive and obscene language, personal attacks of any kind or promotion will be removed and the user banned. Final decision will be at the discretion of the Taipei Times.