New premier Chang takes oath of office
COMINGS AND GOINGS As Chang Chun-hsiung prepared for the challenges ahead, Su Tseng-chang said that he would now have more time to spend with his sick mother
Speaking at his inauguration yesterday, Premier Chang Chun-hsiung (張俊雄) promised that he would do his best to act as a means of binding his Cabinet together.
"There is an old English song called Bridge Over Troubled Water. There is troubled water ahead of us because of the political tug of war between different parties. I expect to be the bridge over that troubled water and to make everything work," Chang said.
The new premier made his remarks during his inauguration yesterday morning at the Executive Yuan, with a total of 82 newly designated Cabinet members present. The inauguration was hosted by Vice President Annette Lu (呂秀蓮).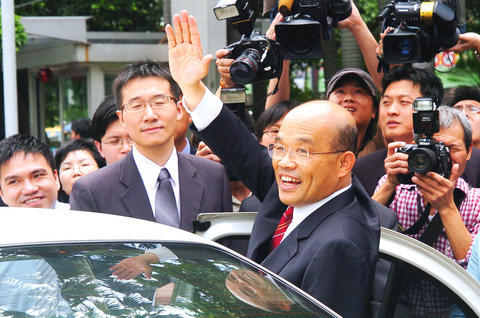 Former premier Su Tseng-chang waves to supporters after new Premier Chang Chun-hsiung was sworn in at the Executive Yuan yesterday.
PHOTO: GEORGE TSORNG, TAIPEI TIMES
President Chen Shui-bian (陳水扁) presided over the swearing-in ceremony for Cabinet officials at the Presidential Office yesterday morning.
With Chen witnessing, Chang led his new government in taking the oath in front of a portrait of Sun Yat-sen (孫逸仙) and the national flag.
They vowed to comply with the law, be loyal to the country and perform their duty. They also pledged not to squander public funds, not to use personnel without limit, not to seek private gain or engage in corrupt acts and not to accept bribes.
In addition to offering encouragement to Chang and his new Cabinet team, the vice president was curious about what former premier Su Tseng-chang (蘇貞昌) would do now.
"I heard that he [Su] wanted us to sit back and watch closely because he shall return someday. I would like to know what his plan is because it will be such a waste and shame if a talented person like him just decides to withdraw," Lu said.
In response, Su said the first thing that he would do was to keep his sick mother company at National Taiwan University Hospital.
"I seldom had time to be with my mother since I began to serve the country. Now is a good time for me to do so and I will certainly take the opportunity," Su said.
After the inauguration, Su walked out of the Executive Yuan, hopped in his daughter's car and left immediately.
In addition to Chang, another seven Cabinet members took their oath of office yesterday.
Newly designated Government Information Office (GIO) Minister Shieh Jhy-wey (謝志偉), who is still Taiwan's representative to Germany, said he would not take the oath until June 11 because he needed to return to Berlin to complete the transition process and hand over his job to his replacement.
"I shall return to Berlin no later than this Friday," Shieh said.
"As you know, GIO stands for Government Information Office, but it is my hope to make it the `Good Ideas Office' in the future because it is my job to come up with policy proposals for the government and clarify the government's policies for the public," he said.
Chang later met Legislative Speaker Wang Jin-pyng (王金平) without discussing a controversy over a bill on the Central Election Commission (CEC), which has led to numerous brawls in the Legislative Yuan.
The government budget for the fiscal year has also been stalled in the legislature as a result of the dispute over the CEC bill.
Last week when Chang made his first courtesy call to Wang after his appointment as premier, Wang presented a proposal to resolve the drawn-out dispute over the CEC bill during their meeting, which Chang said he would consider.
Chang, however, didn't mention the CEC issue during yesterday's meeting.
He said that over the past seven years after the Democratic Progressive Party (DPP) assumed office, there has been constant confrontation between the pan-green and pan-blue camps.
"We are working in the direction of dissolving confrontation with sincerity. We have to communicate with each other all the time. Even if we might not be able to resolve our disagreements, we can at least lessen our conflicts," he said.
Wang had said previously that the CEC bill should be dealt with through informal negotiations between him and Chang.
After Chang left, Wang told reporters he had no idea when negotiations would start, adding that he was still waiting for the premier's response.
Comments will be moderated. Keep comments relevant to the article. Remarks containing abusive and obscene language, personal attacks of any kind or promotion will be removed and the user banned. Final decision will be at the discretion of the Taipei Times.