Heavy traffic reported on first day of holiday weekend
Traffic was heavy on freeways on the first day of the Tomb-sweeping Day long weekend, with approximately 460,000 vehicles on the freeways between midnight and 6am yesterday -- the designated no-toll fee hours.
The numbers neared the figures set during the same timeframe on Lunar New Year's Eve this year, the Taiwan Area Freeway Bureau said.
While the bureau used its high vehicle occupancy control system between 6am and 11am yesterday to ease traffic flow, southbound traffic on all the freeways was heavy from north to central Taiwan between 7am and 10am.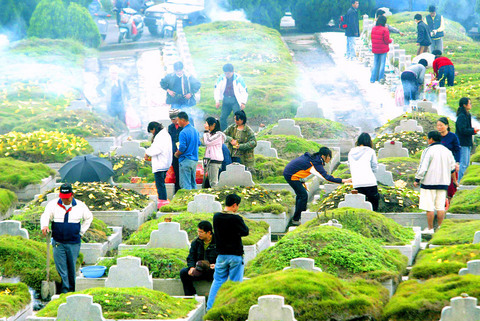 People defy gray skies to sweep and clean family tombs on a hillside in Yunlin County yesterday, Tomb-sweeping Day, the start of a four-day long weekend for many people. Heavy freeway traffic was reported as people headed out to pay their respects to their ancestors.
PHOTO: LI CHING-FANG, TAIPEI TIMES
On the Formosa Freeway (Freeway No. 3), vehicles were at one point backed up from Ankeng (安坑) in Taipei County to Xiangshan (香山) in Hsinchu County.
The section between Nangang and Ilan on the Chiang Wei-shui Freeway (Freeway No. 5) was heavily congested, which in turn backed-up vehicles travleing from Muzha to Nangang on Freeway No. 3.
Traffic in the Hsuehshan Tunnel crawled along, starting at 7am.
Except for the section between Taichung and Changhwa, southbound traffic in the south of the country appeared to move relatively smoother.
Overall, freeway traffic eased slightly yesterday afternoon, and toll booths on freeways reopened after 11am.
But then northbound traffic began to pick up again at 3pm as people began returning home from their graveside visits.
As of 6pm, traffic was moving smoothly except on sections between Yangmei (楊梅) and Jhongli (中壢) and between Yuanlin (員林) and Puyan (埔鹽) on the Sun Yat-sen Freeway (Freeway No. 1).
Traffic was also slow northbound between Hsinchu and Chulin (竹林) and between Caotun (草屯) and Wufeng (霧峰) on Freeway No. 3. At one point traffic was backed up for 4km on the road headed for the southern entrance to the Hsuehshan Tunnel.
The bureau also said approximately 1.88 million vehicles used the freeways on Wednesday, a 17 percent increase over daily traffic volume.
Minister of Transportation and Communications Tsai Duei (蔡堆) visited the bureau's headquarters in Taishan (泰山) yesterday morning to monitor traffic flow and said he was pleased with what he saw.
From today until Sunday, freeway toll booths will be open except between midnight and 6am.
Heavy passenger traffic was also reported on the nation's railways and domestic airlines.
The Taiwan Railway Administration added a late-night train on Wednesday to accommodate the needs of southbound passengers.
Unlike the situation during the Lunar New Year holiday, nearly all people on the waiting lists for airline seats to Kinmen (金門) and Matsu (馬祖) were able to get on flights home. Only one flight, to Nankan (南竿) in Matsu, was canceled because of poor visibility at the airport.
Comments will be moderated. Keep comments relevant to the article. Remarks containing abusive and obscene language, personal attacks of any kind or promotion will be removed and the user banned. Final decision will be at the discretion of the Taipei Times.