Ma's trial begins with innocent plea
CORRUPTION CHARGES The former Taipei mayor admitted to taking public funds, but said he should be cleared of wrongdoing because of his pure intentions
Former Chinese Nationalist Party (KMT) chairman and Taipei mayor Ma Ying-jeou (馬英九) pleaded innocent yesterday at the beginning of his corruption trial, despite admitting that he had taken public funds for personal use.
Ma is on trial for allegedly misusing a special allowance fund during his eight-year tenure as mayor.
When the judges asked Ma how he would like to plead, Ma said: "I am not guilty of these charges, and I hope the court will soon clear my name."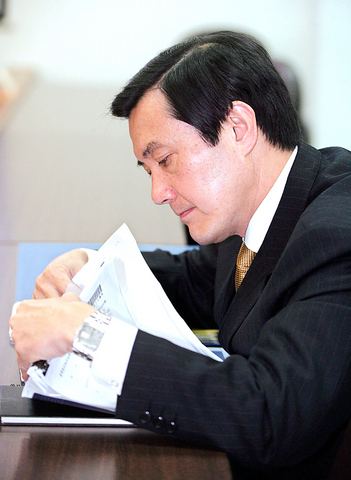 PHOTO: AP AND CNA
Ma and his lawyers yesterday argued that special allowances received by government officials should be treated as a "substantial subsidy" -- essentially as income -- and not as public funds.
"Prosecutors did not investigate matters in my favor, and also ignored evidence that supports my case," Ma told the presiding judges of the Taipei District Court.
"I have been very proud of having a reputation for incorruptibility, but my reputation has been damaged by this flawed indictment. I absolutely cannot accept this," Ma added.
Still, Ma admitted that he had been taking special allowance funds since becoming a government official in 1988, saying he had regarded the funds as part of his government income.
He said that hundreds of government officials shared the same opinion about the funds, and they had also treated their special allowances as personal income.
Ma said he had never known that the special allowances were public funds, adding that he had not intended to embezzle public money.
Ma's lawyer, Hsueh Sung-yu (薛松雨), said the Council of Grand Justices issued a constitutional interpretation in February 1997, which said that the special allowances of the then-speaker and vice speaker of the now defunct National Assembly should be treated as personal income.
Hsueh said the Ministry of Justice also issued a statement last November that prosecutors should take a lenient approach toward their investigations into the abuse of the special allowance funds.
The ministry said the special allowance fund should be seen as a "substantial subsidy" to officials, he added.
Ma is accused of embezzling NT$11 million [US$333,000] and was indicted on Feb. 13 on corruption charges.
Prosecutors found that between December 1998 and last July, Ma wired half of his monthly special allowance -- NT$170,000 -- directly to a personal account. They also found that Ma had NT$11,176,227 in bank accounts belonging to him and his wife.
Taiwan High Court Prosecutors' Office spokesman Chang Wen-cheng (張文政) said that while Ma's salary was about NT$150,000, the mayor had deposited NT$200,000 into an account under the name of his wife, Chou Mei-chin (周美青), each month. This, Chang said, led prosecutors to suspect that he had been embezzling public funds.
Ma included the money in his annual declaration of assets.
Meanwhile, the trial has already begun to spawn protests, counter-protests and violent scuffles.
Early yesterday, some Democratic Progressive Party legislators went to the Taipei District Court to watch the proceedings. But police prevented the lawmakers from entering the courtroom because seating was limited and required an application in advance.
The lawmakers joined protesters outside, declaring they were dissatisfied with the court's limited public seating. They then took part in a vocal exchange with Ma supporters, which turned violent.
The police were called in to break up the fray and disperse the crowd. No serious injuries were reported.
also see story:

Ma's army collects primary form

Pan-blues push amendment to clear Ma
Comments will be moderated. Keep comments relevant to the article. Remarks containing abusive and obscene language, personal attacks of any kind or promotion will be removed and the user banned. Final decision will be at the discretion of the Taipei Times.