New attacks kill 22 as Iraqis bury their dead
Suicide bombers ripped through a Shiite market in northern Iraq yesterday and mortars crashed on rival Baghdad neighborhoods, ramping up sectarian tension a day after the bloodiest bombing of the conflict killed 202 people.
As political leaders pleaded for restraint and imposed a curfew on the capital to avert all-out civil war, two bombers killed 22 people at Tal Afar near the Syrian border.
The Shiite faction that controls Baghdad's Sadr City slum, target of Thursday's attack, demanded the prime minister cancel a summit next week with US President George W. Bush.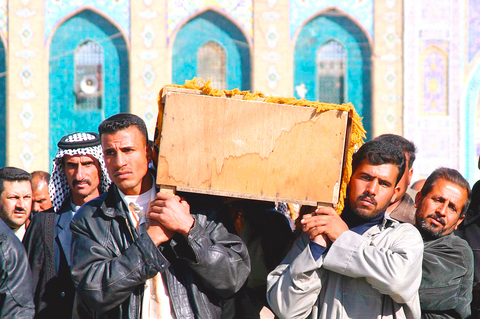 Iraqi mourners carry the coffin of a relative who was killed in Thursday's suicide car bombings in Baghdad's Sadr City area, during a mass funeral in front of the Imam al-Hussein shrine in the holy city of Karbala yesterday.
PHOTO: EPA
The demand was made as the people of Sadr City bore away their dead, marching behind coffins and chanting in anger and sorrow for the victims.
Followers of radical Shiite cleric Moqtada al-Sadr warned they will suspend their membership in parliament and the Cabinet if Prime Minister Nouri al-Maliki meets with Bush in Jordan next week, a member of parliament said. Bush and al-Maliki are scheduled to meet on Wednesday and on Thursday in Amman, the Jordanian capital.
"We have asked Maliki to cancel his meeting with Bush as there is no reason to meet the criminal who is behind terrorism in Iraq," said Faleh Hasan Shanshal, a top political aide of al-Sadr's. "We will suspend our membership in parliament and the cabinet if he goes ahead."
Bush has been expected to discuss with Maliki ways of giving Iraqi security forces more control to raise the prospect of US troops starting to withdraw. But the competence and sectarian loyalties of the US-trained Iraqi forces are in grave doubt.
POLITICAL MANEUVERS
Maliki is under pressure from an increasingly anxious Washington to make good on promises to disband Sadr's and other Shiite militias, which US officials say control parts of the police and army. But the prime minister is dependent on Sadr and his fellow Shiite Islamists to maintain his own position.
Sadr, whose Mehdi Army rose up twice in 2004 against US forces, has long demanded their withdrawal and seemed to be seeking to capitalize on the carnage in his Baghdad stronghold to press his case. Another 250 were wounded in the series of six car bombs and several mortar blasts late on Thursday afternoon.
He called for restraint from his followers, although similar public statements after the bombing of a major Shiite shrine at Samarra in February failed to prevent thousands of reprisal killings, much of which Sunni leaders blame on the Mehdi Army.
Comments will be moderated. Keep comments relevant to the article. Remarks containing abusive and obscene language, personal attacks of any kind or promotion will be removed and the user banned. Final decision will be at the discretion of the Taipei Times.