Officials, experts press for Penghu world heritage site
Officials and experts have urged the nation to have the octagonal basalt columns in Penghu County listed as a World Heritage site by UNESCO.
The group made the call during a three-day seminar in Penghu hosted by the Geographical Society of China which concluded yesterday.
Chen Tsou-ming (陳造明), representative of the Penghu National Scenic Area Administration, said in a telephone interview with the Taipei Times yesterday that the landscape formed around the basalt columns is more diverse than the famous Giant's Causeway in Northern Ireland, which is already recognized as a world heritage site.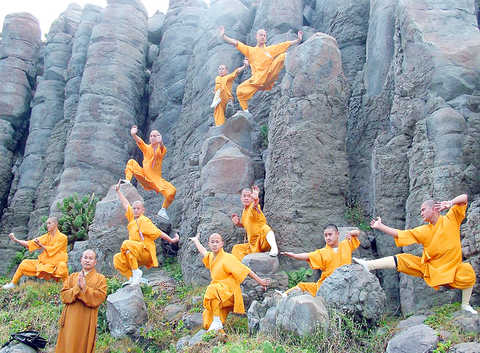 Shaolin monks from Quanzhou in China's Fujian Province pose among the basalt rock formations on Penghu Island in this photo from Oct. 16.
PHOTO: CNA
However, Chen said frustrations were to be expected during the application process.
The criteria that UNESCO requires of potential world heritage sites have been getting stricter and the Chinese Government never fails to take an opportunity to obstruct Taiwan in the international community using its political influence.
"We can't give up trying simply because of political reasons," Chen said, "We just have to fight with we have." According to Chen, useful suggestions have been made by both domestic and overseas experts.
Lin Jiun-chuan (林俊全), a geography professor at the National Taiwan University, has advised the government about the necessity of establishing a geological park as a way to preserve valuable national resources.
Bernard Smith and John McAlister, two professors from Queen's University Belfast in Northern Ireland, were also invited to share their experiences on how the local community had helped preserve the Giant's Causeway in Northern Ireland.
According to their presentation, the local community has used several effective preservation measures. For example, tourists arriving with vehicles must all switch to a tour bus in order to gain access to the Giant's Causeway.
Also, ticket prices are set at the approximate equivalent of NT$400 per person, which is helpful in regulating the number of tourists.
Both Smith and McAlister have also taken a field trip to Magong Island, the largest islands in the Penghu Archipelago, to observe the Basalt formations there.
Comments will be moderated. Keep comments relevant to the article. Remarks containing abusive and obscene language, personal attacks of any kind or promotion will be removed and the user banned. Final decision will be at the discretion of the Taipei Times.