Tight lid kept on Baghdad after Saddam verdict
Baghdad and two restive Sunni provinces were locked under 24-hour curfew yesterday in the wake of former Iraqi president Saddam Hussein's death sentence for crimes against humanity, and officials said the clampdown would continue indefinitely.
Scattered celebrations of the sentencing of the former dictator continued in predominantly Shiite parts of the country where there was no curfew.
An Interior Ministry spokesman credited the round-the-clock restrictions with curbing violence around the announcement of the verdict on Sunday, despite raucous street celebrations among Shiites and defiant counterdemonstrations by Saddam supporters in his hometown of Tikrit.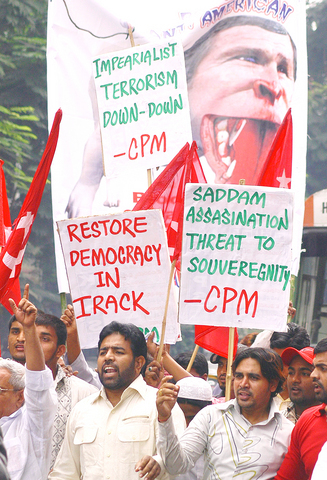 Communist Party of India (Marxist) activists in Hyderabad, India, shout anti-US slogans yesterday as they protest against the death sentence handed down to former Iraqi president Saddam Hussein on Sunday.
PHOTO: AP
"We need to keep on guard over any kind of response from Saddam supporters," Brigadier Abdel-Karim Khalaf said, adding that the emergency measures would likely be lifted by this morning.
Saddam was sentenced by the Iraqi High Tribunal for ordering the execution of nearly 150 Shiites from the city of Dujail following a 1982 attempt on his life.
Barzan Ibrahim, Saddam's half brother and intelligence chief during the Dujail killings, was sentenced to join him on the gallows, as was Awad Hamed al-Bandar, head of Iraq's Revolutionary Court, which issued the death sentences against the Dujail residents.
Former vice president Taha Yassin Ramadan was sentenced to life in prison after being found guilty of premeditated murder, while three other defendants were given up to 15 years in prison for torture and premeditated murder. Mohammed Azawi Ali, a Baath Party official, was acquitted for lack of evidence.
In mainly Shiite Hillah, 95km south of Baghdad, around 500 people marched in the streets yesterday morning, carrying placards and shouting slogans denouncing Saddam, who is accused of killing tens of thousands of Shiites following a 1991 uprising.
Underscoring the widening divide between Shiites and Sunnis, about 250 pro-Saddam demonstrators took to the streets in the Sunni city of Baqubah, 60km northeast of Baghdad. They were dispersed by Iraqi soldiers for breaking the curfew over the province. There were no reports of deaths or injuries.
Another 400 protesters marched through Samarra, 95km north of Baghdad, denouncing the verdict against Saddam and demanding the ouster of Prime Minister Nouri al-Maliki, who had called for the former president's execution.
The world's media was torn yesterday between applause for the death penalty given Saddam and warnings that killing him would only exacerbate divisions threatening to destroy Iraq.
"It's a shame the verdict can give the impression of legitimizing a military intervention taken under false pretexts, when it should be before all else a founding act for a state based on the rule of law after 24 years of dictatorship," said France's Le Figaro.
In Britain, the response ranged between the tabloid Sun's gloating over Saddam's "fitting" sentence to strong criticism in the broadsheets. The Guardian said that if "a new Iraq is to ever ... emerge from the ruins of the old, eschewing judicial murder would be a good start."
The New York Times called for Saddam's execution to be deferred, saying his trial had given Iraq "neither the full justice nor the full fairness it deserved."
also see story:

Saddam faces quick hanging if appeal fails

Many hail Saddam's death verdict, but others fear catastrophe
Comments will be moderated. Keep comments relevant to the article. Remarks containing abusive and obscene language, personal attacks of any kind or promotion will be removed and the user banned. Final decision will be at the discretion of the Taipei Times.