Chen Ding-nan loses cancer battle
Former minister of justice Chen Ding-nan (陳定南) passed away yesterday afternoon, aged 63.
Chen died of lung cancer in National Taiwan University Hospital.
His remains will be brought back to his hometown in Ilan County, where they are to be cremated.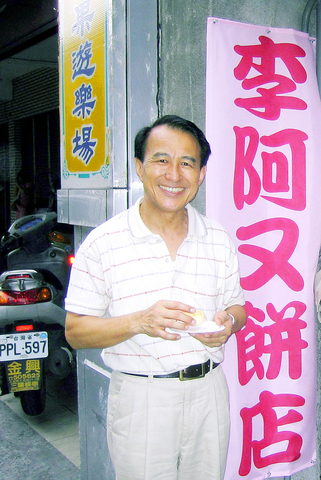 Former minister of justice Chen Ding-nan smiles in this photo taken on May 18 this year. Chen passed away yesterday afternoon, aged 63.
TAIPEI TIMES FILE PHOTO
After Chen was diagnosed with lung cancer in April, he started a blog titled "Good Morning, The Death God," in which he wrote about his experience of his illness.
Chiang Hui-ming (江惠民), head of the Taichung District Prosecutors' Office and a former top aide to Chen, yesterday told the Taipei Times that he could not believe it when Chen was diagnosed with cancer, because the former minister never smoked and had led a healthy life.
Dubbed "Mr Clean" by the media, Chen established the Black Gold Investigation Center under the Taiwan High Court Prosecutors' Office to fight serious corruption right after he assumed his post as minister in 2000.
Unlike his predecessors, Chiang said, Chen never intervened in prosecutors' investigations into sensitive cases.
"Chen gave prosecutors more room and more independence to fight corruption," Chiang said.
Chen also managed to resist pressure from government officials trying to avoid queries from investigators, Chiang added.
During his tenure as justice minister, Chen encouraged his staff to watch CNN daily as a way to improve their English.
He had also set up programs offering scholarships to prosecutors entering masters programs in law at prestigious universities around the world.
Chen had a reputation for strictness. He once told reporters that news agencies kept criticizing him because he always demanded perfection in every aspect of his life and work.
In 2001, Chen implemented a strict regulation stipulating that any gift worth more than NT$30 would be regarded as vote-buying, which sparked criticism from political parties.
Chen, an Ilan native, stepped down as justice minister in January last year to campaign for the Ilan County commissionership.
He officially began his political career when he was first elected Ilan County commissioner in 1981, an office he occupied for two terms, until 1989.
During his eight-year term in Ilan, he cracked down on factory pollution and spent the fines that were collected on cleaning up polluted areas.
Chen's political involvement goes back to his connections with the dangwai movement, the forerunner of the Democratic Progressive Party (DPP).
Many of those involved in the Kaohsiung Incident in 1979 were Chen's high school or college friends.
Murder
The murder of former DPP chairman Lin I-hsiung's (林義雄) mother and twin daughters also inspired Chen to devote himself to politics.
Before that, as a successful businessman, he constantly donated and supported dangwai activists.
DPP Chairman Yu Shyi-kun yesterday paid a visit to Chen's family in the hospital and offered his condolences.
Funeral
Super Meng (孟義超), director of the party's Department of Culture and Information, said that the DPP would assist in the handling of Chen's funeral affairs.
Chen's former assistant DPP Legislator Lee Kun-tse (李昆澤), said that Chen had been an earnest, honest man.
"A politician like him was exactly what Taiwan needed," Lee added.
Chinese Nationalist Party (KMT) Chairman Ma Ying-jeou (馬英九), who is also a former justice minister, yesterday expressed his sorrow at the news of Chen's death and lauded his integrity.
`Sorry'
"I am very sorry to hear about his death. Minister Chen was a DPP official with integrity and virtue," Ma said while attending the KMT's anti-President Chen Shui-bian (陳水扁) rally.
"Although not everyone agreed with his way of doing things, I think everyone identifies with his principles in maintaining his integrity," Ma said.
High quality
While lauding Chen Ding-nan's "high quality of administration during his term as Ilan County commissioner," the DPP's mayoral candidate for Kaohsiung, Chen Chu (陳菊) said: "We were good friends, old friends. I was reluctant to let him go, but I had no choice."
Additional reporting by Flora Wang, Mo Yan-chih and Jimmy Chuang
Comments will be moderated. Keep comments relevant to the article. Remarks containing abusive and obscene language, personal attacks of any kind or promotion will be removed and the user banned. Final decision will be at the discretion of the Taipei Times.