Scientists unveil skeleton of oldest human ancestor
Scientists have discovered a remarkably complete skeleton of a three-year-old female from the ape-man species represented by "Lucy."
The discovery should fuel a contentious debate about whether this species, which walked upright, also climbed and moved through trees easily like an ape.
The remains are 3.3 million years old, making them the oldest known skeleton of such a youthful human ancestor.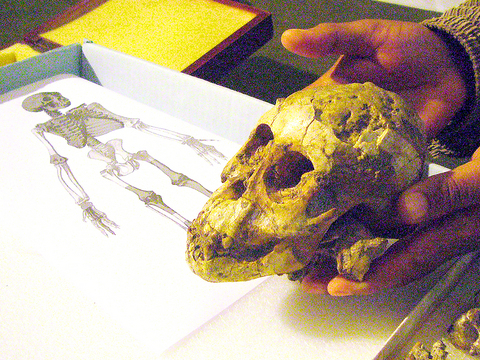 Zeresenay Alemseged, the Ethiopian paleonthologist who headed the research team that discovered a 3.3 million-year-old fossil of a hominid girl in Ethiopia, holds the skull during a press conference in Addis Ababa on Wednesday.
PHOTO: AFP
The fossil including an entire skull, torso, shoulder blade and various limbs was discovered at Dikaka, some 400km northeast of Addis Ababa near the Awash river in the Rift Valley.
"The finding is the most complete hominid skeleton ever found in the world," Zeresenay Alemseged of the Max Planck Institute for Evolutionary Anthropology in Leipzig, Germany, told a news conference.
He said the fossil was older than the 3.2-million-year-old remains of "Lucy" discovered in 1974, and described by scientists as one of the world's greatest archaeological finds.
"The new bones belong to a three-year-old girl who lived 3.3 million years ago -- 150,000 years before Lucy," Zeresenay said.
"Evidence indicates that she probably died in a flood from the nearby Awash River," he added.
The remarkable fossil has been named "Selam," which means "peace" in Ethiopia's official Amharic language.
"It's pretty unbelievable" to find such a complete fossil from that long ago, scientist Fred Spoor said. "It's a once-in-a-lifetime find."
Spoor, professor of evolutionary anatomy at University College London, describes the fossil in yesterday's issue of the journal Nature with Zeresenay and other scientists.
Zeresenay said the child belonged to the Australopithecus afarnesis species, which includes Lucy, and is thought to be an ancestor to modern humans.
"We now have for the first time the hard evidence for a clear picture of what early child human ancestors looked like," he added.
Comments will be moderated. Keep comments relevant to the article. Remarks containing abusive and obscene language, personal attacks of any kind or promotion will be removed and the user banned. Final decision will be at the discretion of the Taipei Times.