Israel lifts navy blockade of Lebanon
EMBARGO A government spokeswoman confirmed that Israel had lifted its naval blockade of Lebanon after a UN-backed flotilla of warships began patrolling the coast
Israel ended its naval blockade of Lebanon yesterday afternoon after an Italian-led international force began patrolling the country's coastline, a government spokeswoman said.
"The Italian-led task force will continue to enforce the international embargo against the supply of armaments to Hezbollah," government spokeswoman Miri Eisin said.
Italian and UN officials had announced earlier yesterday that the blockade was over. But Eisin said it took several hours to coordinate the final details.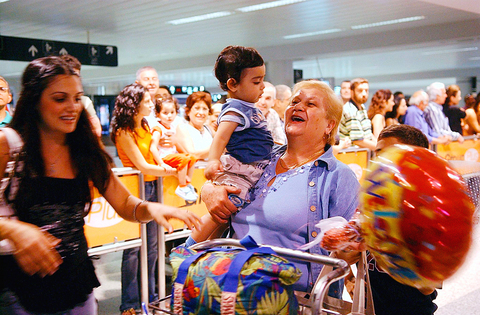 An elderly woman is greeted by relatives upon her arrival at Beirut airport on Thursday. A Middle East Airlines flight arriving from Paris landed at Beirut's international airport just as Israel lifted its blockade.
PHOTO: EPA
Israel imposed the blockade shortly after the outbreak of fighting on July 12 to prevent arms from reaching Hezbollah. It lifted an air blockade of Lebanon on Thursday.
Even before the Israeli announcement, the head of the UN peacekeeping force in Lebanon said European warships were patrolling the coast.
"The force is now operational and I understand that the [Israeli] naval blockade is lifted," the commander, Major-General Alain Pellegrini, said in a faxed statement.
The UN, which brokered the Aug. 14 truce that ended a month of fighting between Israel and Lebanese Hezbollah guerrillas, has been pressuring Israel to pull out all of its soldiers as international and Lebanese forces deploy. At a meeting on Thursday, Israeli security officials said the target was to have the remaining thousands of troops out by the Jewish New Year, which begins the evening of Sept. 22.
Israel has been gradually pulling out its soldiers -- whose number peaked at 30,000 at the war's end -- since the ceasefire. Under the truce agreement, they are to be replaced by 15,000 Lebanese army troops and up to 15,000 members of a UN peacekeeping mission.
Israel partially lifted its embargo of Lebanon on Thursday and said the sea cordon -- in place to fight weapons smuggling to Hezbollah -- would be lifted as soon as a multinational naval force was in place to take over.
Intense international efforts are under way to ensure that the truce holds, with a beefed up UN-force being deployed along the coast and in southern Lebanon as Israeli troops pull out in line with UN Resolution 1701.
A Lebanese official said the Israeli restrictions could be lifted within 24 hours once details on the deployment of the international vessels set to patrol the coast are worked out with the UN.
"The lifting of the maritime blockade was delayed because of certain technical details related to the deployment," a Lebanese official told reporters without elaborating.
German forces are expected to lead the international naval patrols that will initially involve Italian, French, British, Greek and Turkish ships and aircraft.
In Beirut, the country's only international airport was bustling with activity as business gradually returned to normal following Israel's move on Thursday to ease a blockade that had left Lebanon almost completely isolated from the outside world and shattered its already debt-laden economy.
"Everything is going normally today, like before the war," said Mohammed Chihab el-Din, deputy manager at Rafiq Hariri International Airport, whose runways were bombed by Israel at the start of its massive month-long offensive.
Beirut airport, which was recently renovated, typically handles about 100 flights a day. The country's main port in Beirut, however, was playing a waiting game.
"This is like a cold shower," Hassan Kraytem, head of Beirut's port authority, said of Israel's initial announcement on Thursday that the naval blockade would not be lifted immediately. "The port is open but no vessels have come in."
Kraytem said six ships had been scheduled to dock on Friday.
In related news, Olmert has signaled that Israel might cede disputed territory to Lebanon if the Lebanese carry out all provisions of their recent ceasefire with Israel, including the disarming of Hezbollah guerrillas, media reported yesterday.
In a meeting with Russian Minister Sergey Lavrov on Thursday, Olmert said if the UN decides the area is Lebanese, and if Lebanon implements UN resolutions ending the war, "we'll agree to discuss it," the Haaretz daily said.
Comments will be moderated. Keep comments relevant to the article. Remarks containing abusive and obscene language, personal attacks of any kind or promotion will be removed and the user banned. Final decision will be at the discretion of the Taipei Times.