Officials grill designer Lee
A key figure in the embezzlement allegations surrounding the first family, Ligi Lee (李慧芬), yesterday offered prosecutors documents she said provide proof of wrongdoing at the Presidential Office.
Lee's statements and the documents provided by her are believed crucial to allegations that fake receipts were used to claim reimbursements from a secret Presidential Office slush fund.
Since Lee has said she only plans to stay in Taiwan for about one week, prosecutors took the opportunity yesterday to question her most of the day. As of press time, she was still being questioned.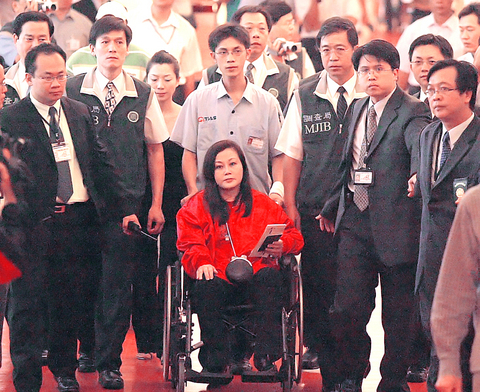 A group of Investigation Bureau agencts escort Ligi Lee, in wheelchair, through customs at CKS International Airport on Sunday night. Lee is a key figure in the embezzlement allegations surrounding the first family.
PHOTO: YAO KAI-SHIOU, TAIPEI TIMES
Lee arrived in Taipei from Australia late on Sunday night and was immediately placed under the protection of the Ministry of Justice's Investigation Bureau (MJIB).
More than 20 MJIB agents were on hand at CKS International Airport to pick Lee up and escort her to a hotel in Taipei. Agents were posted outside her room.
Lee entered the Black Gold Investigation Center of the Taiwan High Court Prosecutors' Office at 9:45am, along with two pieces of luggage she said contained documents relating to the case.
The suitcases were wrapped in plastic to ensure they remained sealed until Lee reached the center.
Lee, an Australia-based fashion designer, has told local media that the documents would prove that she had provided receipts to her cousin Lee Bi-chun (李碧君) and first lady Wu Shu-jen (吳淑珍).
She has claimed the documents include copies of a number of receipts issued by the Grand Hyatt Hotel in Taipei, Sogo Department Store and others businesses.
Lee has also promised to hold a press conference this week to discuss receipts worth more than NT$7 million (US$213,000) which she said she had provided.
Wu has been accused of pocketing cash from a Presidential Office slush fund by turning in receipts given to her by Lee Bi-chun, Ligi Lee's cousin.
Taiwan High Court Prosecutors' Office spokesman Chang Wen-cheng (張文政) told a press conference last week that prosecutors would arrange a meeting between the two Lees in court if their statements were contradictory.
Lee Bi-chun has been banned from leaving the country.
Comments will be moderated. Keep comments relevant to the article. Remarks containing abusive and obscene language, personal attacks of any kind or promotion will be removed and the user banned. Final decision will be at the discretion of the Taipei Times.