Bombing spate continues in Iraq, 31 dead
Two suicide car bombers struck within a minute of each other and just a kilometer apart in south Baghdad shortly before noon yesterday, killing at least seven policemen and raising the day's bombing death toll in the capital to at least 31, police said.
Earlier yesterday, the day's first suicide car bombing killed sixteen policemen and five civilians in the same neighborhood, signaling a new round of bomb violence one day after residents suffered Baghdad's bloodiest day of the war.
Three civilians were killed when a roadside bomb struck a Ministry of Industry bus in eastern Baghdad. Thirteen were injured in the attack, said police Lieutenant Colonel Ahmed Abbod.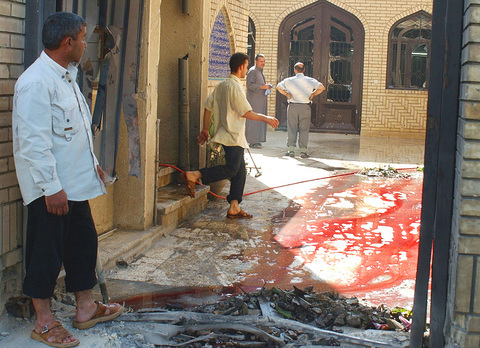 Iraqis remove blood from a mosque's yard in Mosul, 360km northwest of Baghdad, yesterday.
PHOTO: AP
The US military and Iraqi police drove through Baghdad's Dora neighborhood, where the bombings were concentrated yesterday, warning residents to stay indoors because five more car bombers were said to be ready to attack, police Captain Ali Abdul Hamza said. Streets in the southern neighborhood were abandoned.
Al-Qaeda in Iraq said it launched the Wednesday attacks. There was no immediate claim for yesterday's bombings.
Al-Qaeda's leader in Iraq, Abu Musab al-Zarqawi, purportedly declared "all-out war" on Shiites, Iraqi troops and the government in an audiotape posted Wednesday on an Internet site known for carrying extremist Islamic content.
US forces and insurgents, meanwhile, reportedly clashed in the troubled western town of Ramadi, a militant stronghold on the main road to neighboring Jordan. A Web posting purportedly from al-Qaeda in Iraq said its forces had engaged the US military in the predominantly Sunni city of about 800,000.
On Wednesday, more than a dozen coordinated bombings ripped through Baghdad, killing 160 people and wounding 570. Many of the victims were day laborers lured by a suicide attacker posing as an employer.
In claiming it carried out the Wednesday attacks, al-Qaeda said it was taking retaliation for the rout of militants from their base in Tal Afar, the northern city near Syria.
The Thursday attacks in the capital began at 8am. Four hours later the twin bombing boomed out across Baghdad.
"There was just one minute and one kilometer between the two car bombs," said police Captain Firas Gaiti said. He said at least seven policemen died and 10 were wounded.
In the ethnically mixed city of Kirkuk, 290km north of Baghdad, insurgents detonated a roadside bomb next to a passing patrol, killing two police officers and wounding four, said Colonel Anwar Hassan.
Comments will be moderated. Keep comments relevant to the article. Remarks containing abusive and obscene language, personal attacks of any kind or promotion will be removed and the user banned. Final decision will be at the discretion of the Taipei Times.