New Orleans refugees get some relief
TIRED, HUNGRY Troops and supply trucks that began to arrive in the city were greeted by residents who were thankful for their aid, but bitter that it had taken so long
Bone-tired and beyond hungry, the victims of Hurricane Katrina let their emotions show when a National Guard convoy packed with food, water and medicine finally rolled through what once was New Orleans.
A crowd of nearly 20,000 stood outside the New Orleans Convention Center as at least three dozen camouflage-green troop vehicles and supply trucks arrived on Friday along with dozens of air-conditioned buses to take refugees out of the city. US President George W. Bush also took an aerial tour of the city and answered complaints about a sluggish government response by saying, ``We're going to make it right.''
But the slow evacuation of thousands of storm refugees inside the city's Superdome football arena stalled early yesterday. It was to have been completed by dawn, but buses stopped rolling shortly after midnight. There was no immediate explanation for the halt. About 2,000 people remained in the stadium and could be there until today, the Texas Air National Guard said.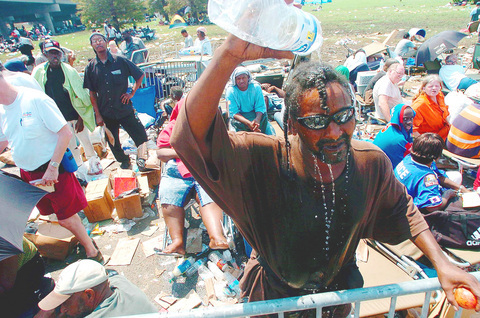 A Hurricane Katrina victim cools himself with water as he waits to be evacuated from New Orleans, Louisiana on Friday. When night fell on New Orleans on Friday, a strong show of force from the US National Guard and police appeared to have restored some order to the city.
PHOTO: EPA
Watching the military convoy move in Friday at the convention center, Leschia Radford sang the praises of a higher power, while Nellie Washington demanded to know what the holdup had been.
"Lord, I thank you for getting us out of here!" Radford shrieked.
The 70-year-old Washington, a rag shielding her from the searing heat and a cart holding her only belongings, asked: "What took you so long? I'm extremely happy, but I cannot let it be at that. They did not take the lead to do this. They had to be pushed to do it."
More than four days passed after the storm hit for residents and trapped tourists to get any real relief. In what looked like a scene from a developing country, some outside the convention center threw their arms heavenward and others hollered profanities as the trucks and hundreds of soldiers arrived in the punishing midday heat.
"They should have been here days ago," said 46-year-old Michael Levy, whose words were echoed by those around him yelling, "Hell, yeah!"
Blame
The soldiers' arrival-in-force came amid angry complaints from local officials that the federal government had bungled the relief effort and let people die in the streets for lack of food, water or medicine.
"The people of our city are holding on by a thread," Mayor Ray Nagin warned in a statement to CNN. "Time has run out. Can we survive another night? And who can we depend on? Only God knows."
The president took a land and air tour of hard-hit areas of Louisiana, Mississippi and Alabama, and admitted of the relief effort: "The results are not enough."
Congress passed a US$10.5 billion disaster aid package, and Bush quickly signed the measure.
Friday didn't start out like there would be any hope for recovery. A thunderous explosion before daybreak and scattered downtown building fires only confirmed the sense that New Orleans was a city in collapse.
Then, the supplies and troops arrived. Flatbed trucks carried huge crates, pallets and bags of relief supplies, including Meals Ready to Eat. Soldiers sat in the backs of open-top trucks, their rifles pointing skyward.
Louisiana Governor Kathleen Blanco said the military presence helped calm a jittery city.
"We are seeing a show of force. It's putting confidence back in our hearts and in the minds of our people," Blanco said. "We're going to make it through."
Guard members carrying rifles also arrived at the Superdome, where bedraggled people -- many of them trapped there since the weekend -- stretched around the perimeter of the building. Lieutenant General Steven Blum, commander of the National Guard, said 7,000 Guard members would be in the city by yesterday.
Food and water
Within minutes of the soldiers' arrival at the convention center, they set up six food and water lines. The crowd was for the most part orderly and grateful.
Diane Sylvester, 49, was the first person through the line. "Something is better than nothing," she said of her two bottles of water and pork rib meal. "I feel great to see the military here. I know I'm saved."
With Houston's Astrodome already full with 15,000 storm refugees, that city opened two more centers to accommodate an additional 10,000.
Dallas and San Antonio also had agreed to take refugees.
One group of Katrina's victims lurched from one tragedy to another: A bus carrying evacuees from the Superdome overturned on a Louisiana highway, killing at least one person and injuring many others.
At the broken levee along Lake Pontchartrain that swamped nearly 80 percent of New Orleans, helicopters dropped 1,300kg sandbags into the breach and pilings were being pounded into place to seal off the waters. Engineers also were developing a plan to create new breaches in the levees so that a combination of gravity and pumping and would drain the water out of the city, a process that could take weeks.
Comments will be moderated. Keep comments relevant to the article. Remarks containing abusive and obscene language, personal attacks of any kind or promotion will be removed and the user banned. Final decision will be at the discretion of the Taipei Times.