Alerts issued as typhoon slams coast
DEVASTATION COMING Schools and workplaces across the country are to close today as weather officials expect torrential rain and wind nationwide
Haitang, the worst typhoon to approach Taiwan in five years, began affecting the nation's weather yesterday afternoon, with strong winds and heavy rain reported across the country.
More rain and high winds are expected today and tomorrow before the storm heads toward southern China.
Officials at the Central Weather Bureau (CWB) yesterday issued nationwide heavy rain warnings and urged people to avoid mountainous areas, rivers and the seaside for the next two days.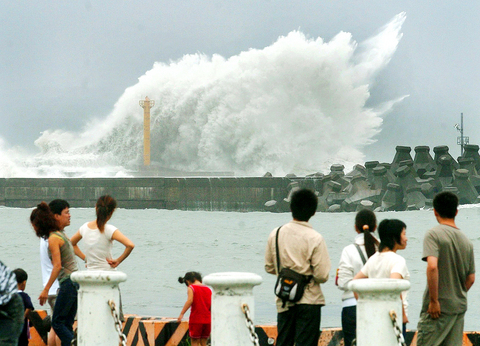 Visitors yesterday flock to the coast in Ilan County to watch mountainous waves whipped up by Typhoon Haitang.
PHOTO: CHEN TSE-MING, TAIPEI TIMES
Yesterday afternoon, the eastern counties of Hualien, Ilan and Taitung reported the strongest wind and heaviest rain. But from Taipei to Hengchuen Peninsula in the south, many people had trouble standing upright outdoors amid strong gusts.
With winds of up to 234kph, Haitang was expected to pound the east coast between Ilan and Hualien Counties especially hard.
Forecasters said yesterday that Haitang was moving at a speed of 17kph and that it would slow down further after making landfall.
By Tuesday, it may be moving as slowly as 6kph as it leaves Taiwan headed for southern China.
"Due to Haitang's slow movement, devastating and heavy rains are expected to be seen in mountain areas around the whole island," said George Lu (呂國臣), a division chief at the bureau's Weather Forecast Center.
The bureau predicts that Haitang might bring cumulative rainfall exceeding 1,300mm in mountains in northern, central, and southern parts of Taiwan.
Forecasters said that for residents in central Taiwan, who have been suffering from devastating mudflows and landslides for years, that amount of rainfall could be catastrophic.
Since Haitang's route is similar to 1996's devastating Typhoon Herb, which claimed 51 lives, governments at all levels have gone to high alert and have set up disaster relief centers.
Yesterday morning, the Council of Agriculture (COA) issued mudflow and landslide warnings, listing 1,420 rivers in danger of flooding. The council's warnings affect about 26,000 residents in 159 townships in 19 counties. Council officials said that a Web site showing the danger of floods and mudflows, fema.swcb.gov.tw, offers emergency information about evacuations.
In Taipei, all water gates were closed yesterday afternoon as comprehensive flood prevention measures were carried out.
Taipei Mayor Ma Ying-jeou (馬英九) yesterday morning inspected construction sites for the city's mass rapid transit in Neihu, which is vulnerable to flooding. The city government has also placed 20,000 sand bags in low-lying areas to prevent flooding.
As of press time last night, several northern and eastern counties had announced that schools will be closed today and that employees are not obligated to come to work.
Taipei City, Taipei County, Ilan County, Hsinchu County, Keelung and Hualien were among those who had announced that schools and workplaces will be closed today.
Water Resources Agency Director-General Chen Shen-hsien (陳伸賢) said that waterworks construction sites in northern and eastern Taiwan have been on high alert for possible flooding.
"The completion of the Yuanshanzih flood diversion tunnel in Keelung makes it possible to function automatically [rather than manually]," Chen said.
The Taiwan Water Supply Corporation yesterday urged residents to store tap water in advance because heavy rains will increase the turbidity of river water.
In the past, water restrictions were carried out after flooding in northern Taiwan.
Comments will be moderated. Keep comments relevant to the article. Remarks containing abusive and obscene language, personal attacks of any kind or promotion will be removed and the user banned. Final decision will be at the discretion of the Taipei Times.