Chinese spy ring broken; intel major was key figure
Taiwan has arrested 17 military officers and civilians on suspicion of passing secrets to China, the Ministry of National Defense said yesterday.
Senior officers said information leaked from the Ministry of National Defense included details about Chinese military exercises, but not more sensitive information about missile systems or secret codes.
A ministry statement said the key figure in the alleged spy ring was Major Chuang Poh-hsing (莊柏欣), who worked in a unit of the ministry's electronic information department that was believed to handle sensitive missile systems data.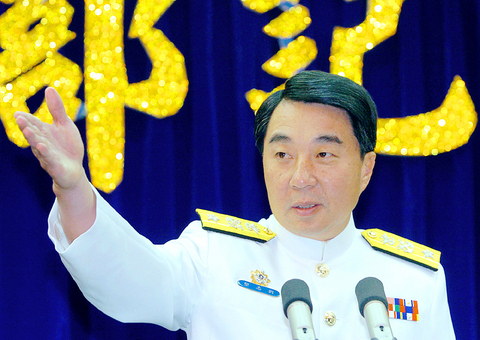 Ministry of National Defense spokesman Rear Admiral Liou Chih-chien speaks at a press conference in Taipei, yesterday, about the arrest of a military intelligence officer suspected of selling defense secrets to China.
PHOTO: AFP
"The documents he leaked included information about annual military exercises by China's navy and air force ... but no missile, radar, or secret information codes," Lieutenant General Li Hsiang-chou (李翔宙), the department's chief, told reporters.
The information about China's exercises would be of interest to Beijing because it could indicate what Taiwan knew about China's military capabilities, the military said.
Chuang was believed to have had no access to the department's most sensitive information because he had been employed there for only one year at a low security level, Li said.
Chuang, who worked at the department's office in Linkou, allegedly handed the information to a retired officer, Huang Yao-chung (黃耀中), the ministry said.
Huang was among those arrested Tuesday.
Investigators said they uncovered the spy ring after the coast guard found that a suspect arrested last September for smuggling guns and drugs was also involved in passing confidential information to China and making fake credit cards.
The leader of the credit-card forgers, Su Tung-hung, was among the other suspects arrested on Tuesday, when more than 200 investigators searched 20 locations and found dozens of secret documents, as well as more than NT$100 million (US$3 million) worth of machinery used to produce fake cards, the Ministry of Justice said.
One of the premises searched was Chuang's home, where investigators found suspicious documents, Li said.
The defense ministry said it would boost security to "effectively track down and attack any illegal leaking of secrets, and block the infiltration of intelligence-gathering channels by Communist China."
Comments will be moderated. Keep comments relevant to the article. Remarks containing abusive and obscene language, personal attacks of any kind or promotion will be removed and the user banned. Final decision will be at the discretion of the Taipei Times.