Lien Chan arrives in Nanjing, gets a warm welcome from Communists
Chinese Nationalist Party (KMT) Chairman Lien Chan (連戰) arrived in China yesterday, becoming the most prominent Taiwanese political figure to visit that country since 1949.
Lien was given a red-carpet welcome in Nanjing by the head of the Communist Party's Taiwan Office, Chen Yunlin (陳雲林), and leaders of the State Council's Taiwan Affairs Office as well as leading party officials from Jiangsu Province.
"Taipei and Nanjing are not too distant, but it still took 60 years to come here. It certainly took too long to make the journey," Lien said after arriving in this eastern city, which had been the capital when his KMT ruled China.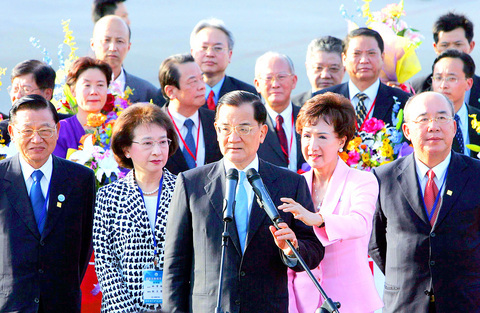 Chinese Nationalist Party (KMT) Chairman Lien Chan, center, speaks as his wife Lien Fang Yu, second right, adjusts the microphone, upon arrival in Nanjin, China yesterday. Lien began his ``Journey of Peace''yesterday, seeking reconciliation with the Chinese Communist Party even as pro-independence supporters in Taipei protested against the trip.
PHOTO: REUTERS
"So, seeing you here this time, I have a feeling of regret for not seeing you any earlier," Lien told them. "I'm very happy that finally we can make this historic step."
Lien was a little emotional when he stepped into the city, which he said is "a linkage to lots of historical feelings." He vowed to use his "belated" visit to pursue a mutually beneficial, win-win situation for both sides of the Taiwan Strait.
"Concerning the common future of the two sides of the straits and how we can reach a future of mutual benefit and a peaceful win-win situation, it is an issue that everyone is concerned about," he said at the airport.
"The KMT delegation hopes to reach the goal of a peaceful and stable cross-strait relationship and we will work towards this. We really hope that people from all walks of life ... will also strive for this."
Last night, Lien dined with the Communist Party chief of Jiangsu Province, Li Yuanchao (李源潮), who told him that the best way to honor Sun Yat-sen (孫中山) was for ``people on the two sides to unite as one and together oppose and check the Taiwan independence forces.''
Meanwhile, the Mainland Affairs Council (MAC) expressed regret yesterday over the Hong Kong government's prohibiting Taiwan's envoy from greeting Lien at Hong Kong International Airport earlier in the day.
According to MAC Vice Chairman You Ying-lung (游盈隆), Pao Cheng-kang (鮑正鋼), Taiwan's representative, was barred from entering a VIP room to greet Lien during the KMT chairman's transit stop en route to China.
Pao, who is the managing director of Chung Hwa Travel Service in Hong Kong, went to the airport to welcome and offer assistance to Lien and his entourage. You said Pao was barred by Hong Kong government staff from meeting Lien.
"We are baffled and regretful at Hong Kong authorities' handling of the matter," You said, adding that the council will seek an explanation from the Hong Kong government over the incident.
Comments will be moderated. Keep comments relevant to the article. Remarks containing abusive and obscene language, personal attacks of any kind or promotion will be removed and the user banned. Final decision will be at the discretion of the Taipei Times.