Lien, Soong `colluding' with China: Lee
'SELL-OUT' The former president assailed opposition party leaders for undercutting the government, and warned that their actions jeopardized national security
Former president Lee Teng-hui (李登輝) yesterday denounced pending visits by opposition leaders to China as "collusion with the Chinese Communist Party and a sell-out of Taiwan."
He said cross-strait tensions should instead be tackled by Washington, Tokyo, Taipei and Beijing in a conference held in the US.
Lee, the head of the Hand-in-Hand Taiwan Alliance, joined the leaders of what organizers claimed were 100 civic groups at an international press conference yesterday at the Taipei Sheraton Hotel.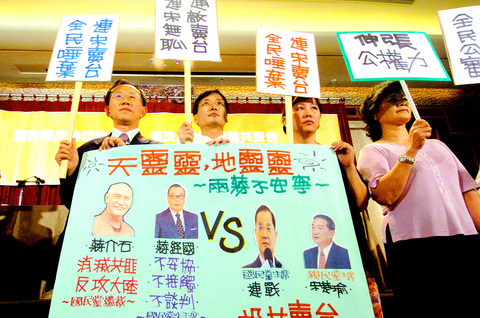 Protesters hold up signs at a press conference attended by 100 pro-localization groups at the Taipei Sheraton yesterday. They were objecting to KMT Chairman Lien Chan and PFP Chairman James Soong traveling to China for negotiations with Beijing. The large sign refers to the stances of former presidents Chiang Kai-shek and Chiang Ching-kuo, who opposed Beijing, compared with Lien and Soong, who are ``selling out Taiwan.''
PHOTO: SEAN CHAO, TAIPEI TIMES
The pro-independence groups attacked the visits by Chinese Nationalist Party (KMT) Chairman Lien Chan (連戰) and People First Party (PFP) Chairman James Soong (宋楚瑜), and issued a declaration stating that the Taiwanese people would never accept the "non-existent `1992 consensus'" as a basis for negotiation.
Saying he had not slept for several days over the matter, Lee said Taiwan was at a critical juncture and that the actions of Lien and Soong were damaging for the country.
"In making these visits, Lien and Soong are committing three wrongs. The principle is wrong, their status is wrong and the timing is wrong," he said.
Lee said that regardless of the content of the opposition leaders' talks with the Chinese leadership, China had already placed Taiwan in its "one China" framework.
"With this premise, any communication with China would only spell an end to Taiwan's sovereignty. It is a life-or-death issue for Taiwan. We can't negotiate with China on our sovereignty," he said. "If Lien and Soong still insist on going to China, they will only become guilty persons to be condemned by history."
Lee did not, however, suggest what the government might do in responding to the developments.
He did say that the job of Lien and Soong was only to supervise the government and that they were not qualified to speak for the people of Taiwan. He said they were not authorized by the government nor had the government's permission to act as representatives.
"They have no status in going to China," he said.
Lee said that the timing of the visits -- immediately following international condemnation of the "Anti-Secession" Law -- only created the misconception that Taiwan did not object to the law.
"The behavior of Lien and Soong has confused the international community about Taiwan's stance on China's `Anti-Secession' Law," Lee said. "The two have simply reduced themselves to serving as Chinese tools for appeasing negative responses to the law."
"What Lien and Soong are doing can't help Taiwan and can only harm Taiwan," he said.
Lee also said that negotiations between China and Taiwan should be "government to government," which he said was the only way to protect the nation's dignity and sovereignty.
The people of Taiwan will never accept the results of negotiations that come about through `party to party' communication, he said.
Lee also said the US was the most suitable place for negotiations.
"Beijing would be the last place to meet if talks were held between Taiwan and China," he said. "If negotiations take place in Beijing, Taiwan will be annexed by China."
Lee said he disagreed with outgoing US Deputy Assistant Secretary of State Randall Schriver, who reacted to opposition visits to China by saying, "on the margins, dialogue is better than no dialogue at all."
"I think it's an irresponsible comment. The key to these negotiations is what on Earth it is that Lien and Soong will be discussing with China," Lee said. "We need to know that wrong structures lead to wrong consequences. There is no question that Lien's and Soong's visits are a `wrong structure' in the sense that Taiwan and China are two countries."
Comments will be moderated. Keep comments relevant to the article. Remarks containing abusive and obscene language, personal attacks of any kind or promotion will be removed and the user banned. Final decision will be at the discretion of the Taipei Times.