Chen Chi-mai takes over in Kaohsiung
NATIVE SON Chen's appointment as acting Kaohsiung mayor is a signal that the Kaohsiung native is preparing to run in the mayoral election at the end of this year
Kaohsiung Mayor and premier-designate Frank Hsieh (謝長廷) yesterday nominated Cabinet Spokesman Chen Chi-mai (陳其邁) to serve out the rest of Hsieh's term as Kaohsiung mayor. \n"We have many ideas in common. Chen is also a Kaohsiung native, so I have nominated him to fill the post that I will leave vacant," Hsieh said. \nHsieh yesterday appointed Albert Lin (林耀文), the director-general of the Kaohsiung City Government's department of information, as special assistant to the premier. \nHsieh said he was communicating with President Chen Shui-bian (陳水扁) about candidates for the vice premier's post. He said the president may announce who the new vice premier will be during his tour of two of the nation's allies in the South Pacific. \nThe president departs today on the five-day trip to Palau and the Solomon Islands. \nSpeaking on his appointment as acting mayor for the southern special municipality, Chen Chi-mai told reporters that "stability, negotiation and progress" were the three principles with which he would run Kaohsiung. His appointment is widely seen as confirmation that he will be the Democratic Progressive Party's candidate for Kaohsiung mayor next year. \nThe new Cabinet will take office on Tuesday. \nHsieh said "the Cabinet line-up will be finalized in two days," adding that he will be in contact with the president during his trip, and that "it is alright" if the president announces the vice premier during this time. \n"Changes to the Cabinet will be small," Hsieh said. "The real reshuffling of the Cabinet may take place six months from now." \n"Minor adjustments to the Cabinet will leave some room for reconciliation between the government and the opposition alliance," he said. \nHsieh said that delaying substantial change was justified because some members of the Cabinet had joined only recently. In addition, other members of Cabinet needed time to decide if they will be running in the mayoral and county commissioner elections at the end of the year, he said. \nHsieh said May was a good month to make these changes. \nAsked about the identity of the next vice premier, Hsieh said he or she would not necessarily be from a financial or economics background. \n"Because [Premier] Yu Shyi-kun's Cabinet has done well improving the economic situation, the new Cabinet will focus more on negotiations and dialogue with the opposition and China," he added. \nReports suggest that Chen Chi-mai's replacement might be the only significant new appointment to the new Cabinet. \nChinese-language newspapers have speculated that Vice Minister of Justice Morley Shih (施茂林) will be that person. \nShih would replace Minister of Justice Chen Ding-nan (陳定南). It is also reported that Presidential Office Deputy Secretary-General Cho Jung-tai (卓榮泰) will become Cabinet spokesman and a minister without portfolio. \nMinister of the Interior Su Jia-chyuan (蘇嘉全), who is close to the new premier, is apparently going to take the post of Cabinet secretary-general, while Council of Labor Affairs Chairwoman Chen Chu (陳菊) would replace him as interior minister. \nAlso see story: \nEditorial: Taiwan a tale of two cities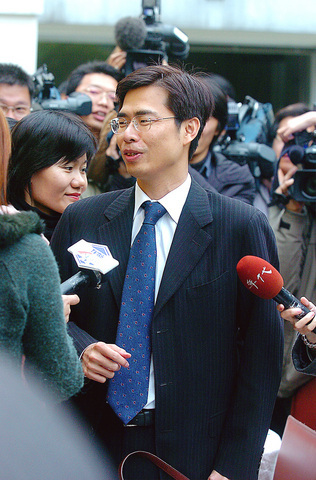 Cabinet Spokesman Chen Chi-mai talks to reporters in Taipei yesterday after being appointed acting mayor of Kaohsiung.
PHOTO: GEORGE TSORNG, TAIPEI TIMES
Comments will be moderated. Keep comments relevant to the article. Remarks containing abusive and obscene language, personal attacks of any kind or promotion will be removed and the user banned. Final decision will be at the discretion of the Taipei Times.