Chen stands by name change
ELECTORAL GAMBIT The president told a Miaoli rally that `Taiwan' was the best name for overseas offices and agencies because there would be no confusion
President Chen Shui-bian (陳水扁) yesterday stood by his pledge to change the names of all relevant government agencies to "Taiwan" to avoid confusing the international community. \nChen made the remarks last night while stumping for Democratic Progressive Party (DPP) legislative candidates at a campaign rally in Miaoli County. \nHe said that apart from government agencies based in countries that recognize Taiwan, where the national designation will remain "Republic of China," all agencies will change the country's name to "Taiwan" to emphasize the distinction between Taiwan and China. \nDuring a speech endorsing candidates running in the county, Chen told the crowd he would be a lame-duck president if the pan-green camp was not able to control the legislature. He said Taiwan could no longer afford to engage in "social chaos" and allow "one or a couple of persons' hatred exhaust the nation" and prevent it from making any progress. \n"On March 20, you gave me a chance with a second term in office. To allow me to do my work as president, I appeal to you for your support and to give me a clear pan-green majority in the new legislature so that I can deliver the promises I made during my re-election campaign," Chen said. \nHe urged voters to use their ballots on Saturday "to give Taiwan a chance for love, a chance for national unity." \nChen said a pan-green camp majority in the legislature would also strengthen his hand when dealing with China. \nAmong the other DPP heavyweights who took the stage last night to root for Miaoli candidates Tu Wen-ching (杜文卿) and Chen Chao-ming (陳超明) were Vice President Annette Lu (呂秀蓮), DPP Secretary-General Chang Chun-hsiung (張俊雄), Presidential Office Secretary-General Su Tseng-chang (蘇貞昌) and Vice Premier Yeh Chu-lan (葉菊蘭). \nIn a bid for increased support in Miaoli, a region with a high concentration of Hakka residents and a traditional blue-camp stronghold, Yeh -- a Hakka herself -- and Su campaigned on the DPP administration's record of promoting Hakka culture, including the establishment of a dedicated TV channel and departments for Hakka studies in universities. \nWith Taiwan entering the final days of the campaign, starting today Chen will attend three or four campaign rallies nationwide every day in a last ditch effort to canvass support. \nIn related news, the director of the DPP's Taipei City headquarters, Huang Ching-lin (黃慶林), yesterday said the DPP had run into difficulties finding a location in Taipei for its final rally on Friday night. \nHuang said his office applied for permission last week to hold the event, which is anticipated to attract at least 100,000 supporters. \nLocations such as the Chiang Kai-shek Memorial Hall, Zhongshan Soccer Stadium and the old Sung-shan Tobacco Factory had all been turned down by the Taipei City Government, citing late applications or traffic concerns, Huang said. \nHuang said the city government was acting out of political interests, a charge which city government spokesman Yu Tze-hsiang (游梓翔) denied yesterday. \nThe DPP will continue looking for a more suitable location, Huang said, though the chapter had already booked Shipai Junior High School for the rally, which can only fit 20,000 people. \nAlso see story: \nYu backs Chen's call to use `Taiwan' in agency names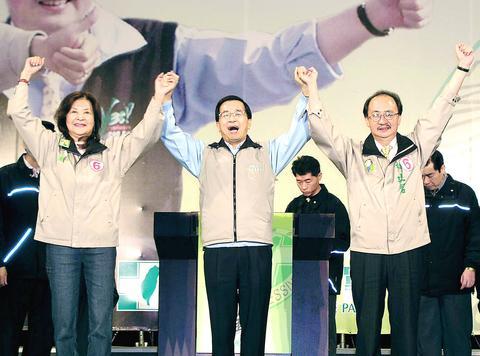 President Chen Shui-bian, center, campaigns in Hsinchu City with veteran Democratic Progressive Party Legislator Ker Chien-ming, right, and Ker's wife, left.
PHOTO: TSAI CHANG-SHENG, TAIPEI TIMES
Comments will be moderated. Keep comments relevant to the article. Remarks containing abusive and obscene language, personal attacks of any kind or promotion will be removed and the user banned. Final decision will be at the discretion of the Taipei Times.