Kashmir meeting dubbed `friendly'
Indian and Pakistani foreign ministers yesterday ended their first round of talks over Kashmir on a positive note, resolving to take forward the peace process, an official said. \n"There is a commitment ... there is determination to take this process forward and make progress in whichever field we can," Indian foreign ministry spokesman Navtej Sarna told reporters. \nSarna said Indian Foreign Minister Natwar Singh and Pakistani counterpart Khurshid Mahmud Kasuri had during their discussions in New Delhi tackled the explosive issue of Islamic militancy in the Indian zone of divided Kashmir. \nIndia's concerns on the cross-border infiltration of Islamic rebels and what New Delhi calls the "infrastructure of terrorism" -- or militant training camps -- in the Pakistan-administered zone of Kashmir were discussed, he said. \n"This is a matter of concern and it has been raised in all the meetings," Sarna said. \nIndia accuses Pakistan of arming and training guerrillas in Kashmir, an allegation Islamabad denies although it openly offers diplomatic support to what it calls the Kashmiris' rightful struggle for self-expression. \nMore than 40,000 people have died in Indian Kashmir since the launch of the rebellion in 1989. \nThe foreign ministers also discussed a number of issues including a bus link connecting the two zones of Kashmir, Sarna said. \n"Both ministers had a very long one-on-one meeting," he said, describing the talks between Kasuri and Singh as having taken place in a "friendly, cordial, affable and constructive atmosphere." \nThe meeting was a review of a series of meetings between bureaucrats of the two countries on a number of issues including trade, terrorism, drug trafficking and Kashmir between June and last month, Sarna said. \n"This is an occasion to look forward to the engagement in terms of dialogue between the two countries in whatever form is coming up ahead," Sarna added. \nThe foreign ministers wind up their talks today. \nKasuri was ready later yesterday to call on former Indian prime minister Atal Behari Vajpayee, who set the peace process in motion last April by extending a "hand of friendship" to Pakistan. \nKasuri was also to meet India's opposition leader Lal Krishna Advani and Kashmiri separatist leader Mirwaiz Umer Farooq before attending a dinner later yesterday hosted by Natwar Singh. \nToday, he was to call on Indian Prime Minister Manmohan Singh and National Security Advisor J.N. Dixit besides attending the second round of the formal talks. \nHe is also due today to meet India's oil minister Mani Shankar Aiyar over lunch to discuss the future of a proposed US$3.5 billion pipeline designed to transfer gas from Iran to India through Pakistan.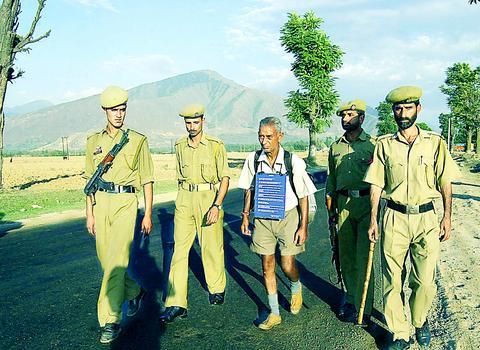 Manjit Rai Bhardwaj, 67, of Ludhiana, center, walks for peace about 12km from Srinagar as Jammu and Kashmir state police personnel guard him near Pampore, India yesterday. Bhardwaj started his peace walk in Srinagar on Nov. 6, last year, walked to the southern Indian town of Kanyakumari and then began walking back to Srinagar.
PHOTO: AP
Comments will be moderated. Keep comments relevant to the article. Remarks containing abusive and obscene language, personal attacks of any kind or promotion will be removed and the user banned. Final decision will be at the discretion of the Taipei Times.